'Archer' + 'Top Gun' = Awesome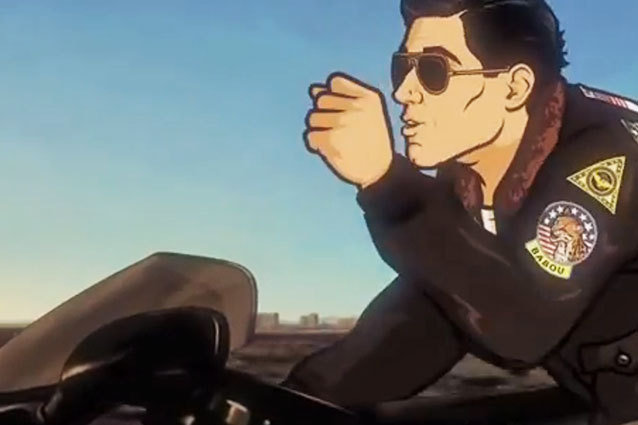 Archer/YouTube
Recently, the TV show Archer posted a hilarious YouTube video teaser that is a parody of Kenny Loggins' Danger Zone video. It featured all the show's characters in a Top Gun commercial parody.
It's awesome because it brings back so many memories of the 1980s while simultaneously showing the usual Archer edge and humor, like having the characters do their own silly things, like spilling coffee all over themselves constantly. They even play up the supposed latent homo-eroticism from the movie. It's an entire decade flashback in a 1:37 clip. I know that H. Jon Benjamin is going to knock this out of the park with his voiceover – and so will Aisha Tyler (she's better at voiceover work than on-screen) and Chris Parnell.
This is why people love this show – it's got a sense of irreverence and whimsy that most others lack, and it's not afraid to parody other things. That one that poked fun at Justified was a classic. Since the teaser showed scenes from Top Gun, it's likely going to be a parody. I just hope that they don't skirt too far into Hot Shots territory, since that's another one that played up the Top Gun angle. Ironically, Charlie Sheen has a show on FX now as well.
Now, if Archer could do Footloose. The Kevin Bacon one, not that ridiculous remake. Also, it would be interesting to see what Tom Cruise thought of all this.
It's making me long for January, when the show starts up again. Why do they have to start teasing these things SO EARLY?
Warning: The video has one very brief naughty moment with someone showing a Mister Digit finger puppet.