Are Pharrell's N.E.R.D. Sensibilities Just What 'The Voice' Needs?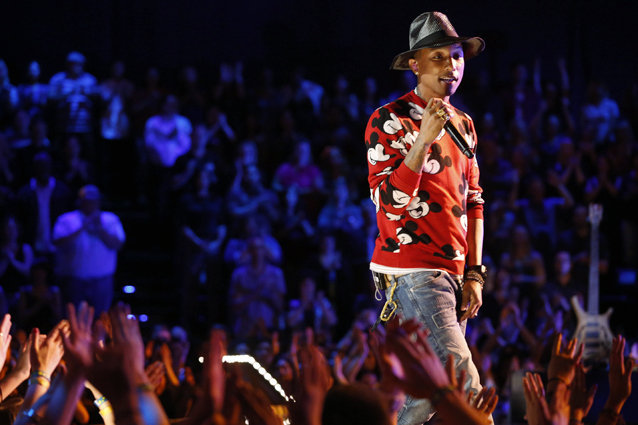 Trae Patton/NBC Universal Media
More than its counterparts in the singing competition wars, The Voice rises or falls based on the celebrity coaches that sit in its spinning chairs. While the bromance and prank wars between Adam Levine and Blake Shelton always seems to take center stage, whoever it is that fills the show's other two spots can make or break a season. The original line-up that included Christina Aguilera and CeeLo Green had chemistry that is tough to match. Their replacements, Shakira and Usher, have plenty of credentials but have never quite developed a great rapport with Levine and Shelton.
That's why fans of The Voice should be excited about the additions next season of Pharrell Williams and Gwen Stefani. They might not be Xtina and CeeLo, but they have the potential to be significantly better than Shakira and Usher.
Pharrell has become a media sensation with his "Happy" video and his Arby's hat, but he's far from a flash in the pan. Before he was an artist in his own right, Pharrell partnered with Chad Hugo to form the superstar production team The Neptunes, working with everyone from Snoop Dogg to Britney Spears to Robin Thicke. Pharrell, Hugo, and Shay Haley also formed N.E.R.D. to essentially record avante garde hip-hop. His influences are so diverse it's hard not to believe that he'll have an interesting take on the singing auditions.  
More than that, though, Pharrell doesn't shy away from controversy. He's 41 years old and he's comfortable with who he is and what he does. When the plagiarism accusations came up over Thicke's "Blurred Lines," which he cowrote, he didn't run away and he wasn't defensive. He was honest… which is always a welcome addition to a singing competition show.
Likewise, Stefani doesn't have anything to prove at this point and should be particularly able to handle being the lone female in the boys club. Stefani was the lead singer of No Doubt, after all, so she's already been the only feminine voice in a room full of guys. Perhaps just as importantly, she's been married to Gavin Rossdale for more than a decade… so she's got plenty of experience with keeping a pretty boy rock star in his place. The key to dealing with Levine and Shelton is to be willing to give as much as you get, and you get the feeling that Stefani will have no problem taking them on.
Levine and Shelton will continue to be the focus of The Voice, as everyone watches to see how they will top Shelton giving out Levine's cell phone number and Levine dumping manure on Shelton's truck. The duo is basically a step away from having their own sitcom. But in Pharrell and Stefani, the producers have hit upon a pair that should be able to give The Voice a new and distinctive perspective… or at least a more interesting one than Usher and Shakira ever have.