'Arrested Development': Michael Cera Revives George Michael for New Season — PICS
As adamantly as we've all been waiting for Arrested Development to finally come back to us, there are still a few apprehensions about the show's return. For one, the immense passage of time between the original finale and the forthcoming season premiere. When we last left the family in February of 2006, George Michael Bluth and Maeby Fünke were mere 16-year-olds, ensconced in the troubling conceit of incestuous love. The pair was of course played by Michael Cera and Alia Shawkat, who were, at the time, 17 and 16, respectively. No problem. But here's the issue that faces us today: now, Cera and Shawkat are 24 and 23. There's a whole lot of physical aging that goes on during those fateful late teens/early 20s, and it might well work to separate us a bit too much from the Arrested Development characters we remember. You know, like what happened with Walt on Lost, or Rudy on The Cosby Show.
But if you were at all worried about that, you can probably cool it a bit. Below are the first pictures from Arrested Development: Season 4 production, featuring Cera back on set in the model home and in his grandmother Lucille's (Jessica Walter) apartment. He may be older, he may even look older. But that fresh-faced, humble little Cera doesn't seem like he's outgrown George Michael. He's got the same nervous, good-natured affect about him, the same fashion sense, and probably the same proclivity from ducking to avoid soft projectiles.
The photos come from the Twitter account of Jason Bateman, who plays Cera's AD father, Michael Bluth. Bateman posted the below photos with the messages, "My son, arriving yesterday," and "A grandson, looking for his Gangee," (respectively) on Saturday afternoon. Check out the pics, and feel the glory of George Michael fill you from the inside out.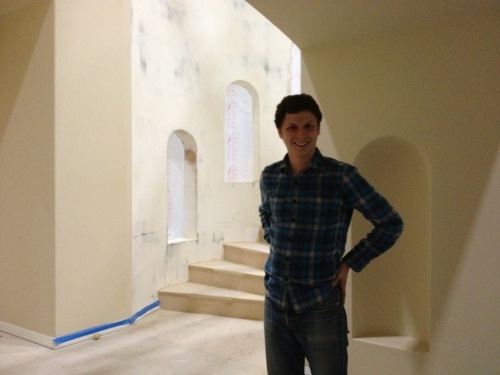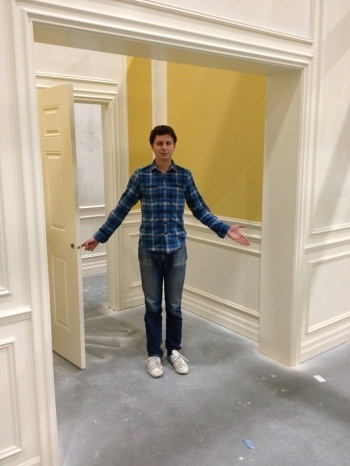 More:
Ron Howard and Jason Bateman Tease 'Arrested Development' Details for Next Season
See the 'Arrested Development' Cast Like You've Never Seen Before
'Arrested Development': Details on the Netflix Reboot (Season Four, Five, AND Six?!)