'Arrested Development' Fans: Where the Hell Is Our Movie?!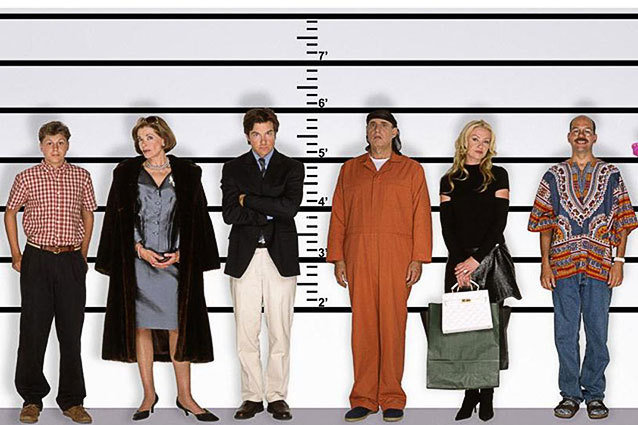 Mitchell Hurwitz isn't sirsumventing the issue: he knows that as grateful as we fans are for the upcoming new season of Arrested Development, what we really want is the movie. And although we've heard plenty of nebulous hemming and hawing about the possibility of a big screen incarnation of the Bluth family over the years, the imminent Netflix episodes give us reason to invest a new degree of optimism in creator Hurwitz's latest remarks at the series' SXSW Film Festival on Sunday.
RELATED: Ben Stiller to Dazzle Us on 'Arrested Development'
"I'm confident that we will succeed at [making the movie]," Hurwitz stated alongside stars Jeffrey Tambor (George Sr.) and Will Arnett (GOB), as reported by E!. But it's not a straight shoot from here. It will still require 20th Century Fox to sign on for a feature, which Hurwitz affirms the studio has yet to do.
RELATED: Kristen Wiig's 'Arrested Development' Role Revealed
In addition to this glimmer of hope, Hurwitz and his Georges in tow also treated present fans to two yet unseen Arrested Development clips from the new season: one of GOB and brother Michael (Jason Bateman) engaging in a new round of follies involving the former's patented Forget-Me-Now Roofies, and the other of Buster (Tony Hale) ingesting the secondhand smoke of a lounging Lucille (Jessica Walters). Hurwitz also confirmed a few details about newcomer Maria Bamford's character: she's "a hilarious mess" who will be named "Debris."
Follow Michael Arbeiter on Twitter @MichaelArbeiter
[Photo Credit: FOX]
---
You Might Also Like:


8 Male Stars With Tramp Stamps


15 Stars Share Secrets of their Sex Lives (Celebuzz)