'Arrested Development' Premiere: Which Bluth Would Jeffrey Tambor Befriend?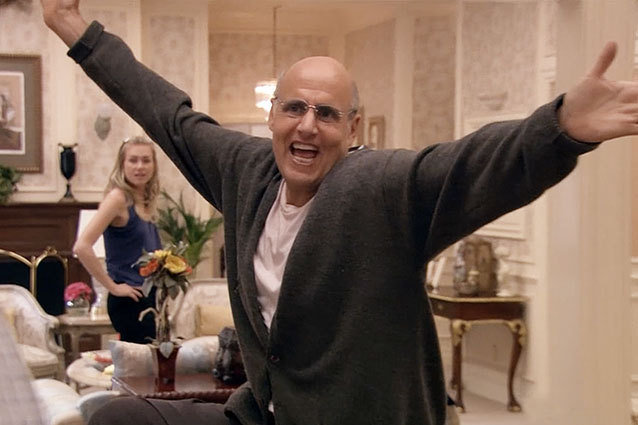 The Bluth family: mostly narcissists, occasionally terrible, 100 percent entertaining. But just because we love to watch our favorite Arrested Development family screw each other over on screen doesn't mean they'd be fun to hang out with off screen. With that in mind, Hollywood.com hit up the red (well, orange) carpet premiere of the show's new Netflix season to see what some of the Bluths' closest friends (and even some Bluths) had to say about which family member they'd actually want to hang out with in real life.
Hey, it beats trying to pry plot details out of a cast who are just as big fans of their show as the rest of the Internet (and therefore do not want to spoil even the tiniest bit of it). Here's what we found out:
Jeffrey Tambor, a.k.a. Bluth family patriarch George Sr., went with the obvious choice: "George, because I am George!"
His on-screen adopted son, Annyong, played by Justin Lee, went with his sibling. "Ok, let's see here — Gob. I love magic. I love, love, love magic." Excuse us, youngest Bluth? We think you mean illusions. "I love illusions! You got me there," Lee admitted.
Newest guest star Terry Crews cheated a little and picked his favorite off-screen cast member — "Portia De Rossi, Lindsay. We had a good relationship on the set." — while Judy Greer, better known as secretary Kitty, who has romanced many Bluth men, gets a little more philosophical. "Oh man! That's a good question," she said as she pondered her decision. "Ahhh, George Michael. Because he is the youngest so I could probably hang out with him the longest."
Which Bluth family member would you be friends with in real life?
More:
The Latest 'Arrested Development' on Netflix Character Posters
John Krasinski Headed to 'Arrested Development'
20 Running 'Arrested Development' Jokes We Hope Keep Running
Follow Jean on Twitter @hijean
---
From Our Partners:


Miley Goes Braless for Magazine Cover (Celebuzz)


33 Child Stars: Where Are They Now? (Celebuzz)