'Arrow' Scoop: A Pair of Villains Threaten to Tear the Team Apart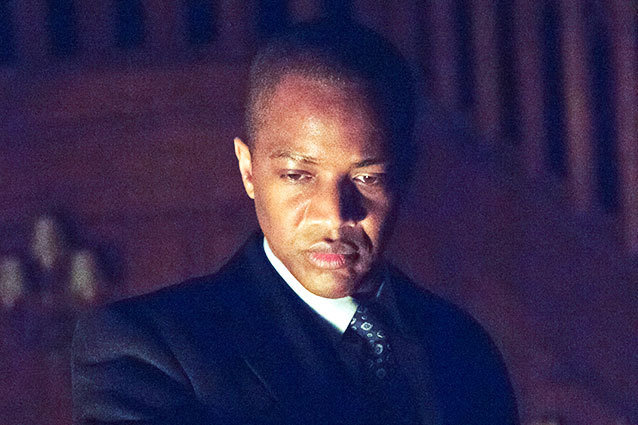 We've been waiting ever-so-(im)patiently for the return of the CW's newest hit drama Arrow to return for the last four episodes of its freshman season, and tonight we will finally be rewarded. Oliver Queen (Stephen Amell) and co. are back in "Home Invasion," and our favorite hooded vigilante has got a whole mess of problems with his family, his friends, and even his colleagues on Team Arrow. 
We last left off with Ollie's sister Thea (Willa Holland) teaming up with her new boyfriend Roy Harper (Colton Haynes) to track down the Hood, Ollie's mother Moira (Susanna Thompson) caught in the nefarious plans for The Undertaking of The Glades, his best friend Tommy (Colin Donnell) allying himself with his father Malcolm (John Barrowman) — aka the Dark Archer — and his partner Diggle (David Ramsey) out for revenge, Team Arrow be damned. Honestly, with friends and family like Oliver's, who needs enemies? 
Unfortunately, Starling City's insidious underbelly doesn't exactly see things that way, and Oliver will have a whole new slew of enemies to try and cross off his List tonight. First and foremost, Floyd Lawton — a.k.a. Deadshot — once again rears his one-eyed head, and according to everyone's favorite IT girl Felicity Smoak (Emily Bett Rickards), Deadshot stirs up some trouble within Team Arrow and outside of the team.
"Dun dun dun, Deadshot! There is tension that happens between Diggle and Oliver when Deadshot comes into the case because whether or not you see him in each episode, Floyd Lawton is always on Diggle's mind 100 percent," Rickards tells Hollywood.com. "He wants to get revenge. He cannot go on living with Deadshot there. And Felicity does not want to see Diggle get lost in that."
When Oliver doesn't exactly see eye to eye with Diggle's "blood quest" against Lawton, it's up to Felicity to bring her two boys back together. "I see her as the point of this triangle and she's going, 'Okay, you guys are individuals and you need to work this out,'" Rickards reveals. "In this episode, she's trying to fuse together again the connection between the other two points of their triangle. It gets a little rocky, for lack of a better explanation."
Maybe if Deadshot was Team Arrow's only concern in "Home Invasion," they would actually stand a chance to really work through their issues in a timely manner. But unfortunately for Oliver, Diggle, and Felicity, they will also have to deal with a new villain that presents a challenge they've never faced before.
Angel alum J. August Richards makes his debut tonight as Mr. Blank, an assassin who Richards doesn't like to define in such black-and-white terms. "You call him a villain but I don't think he sees himself that way, nor do I see him that way," Richards tells Hollywood.com. "He sees himself as a businessman who's been hired to do a service. And beyond that, he has no sort of judgment behind it or not. He is an assassin who is brought in to keep a few witnesses quiet and he is very serious about what he does for a living."
While any normal assassin wouldn't present major challenges to Oliver and company, Mr. Blank has a special talent that makes Team Arrow's job much harder than usual. "He lives his whole life to be invisible so that he can creep out of the shadows to take people out and then creep right back in," Richards reveals. "He's not easy to track down. He's a master of disguise without ever changing his costume. That's how good this guy is."
And what's scarier than his talent for disappearing is his "dead in the eyes" personality. "This character has no empathy for people at all. He might understand human emotions but he doesn't understand yours or how you're feeling. That doesn't even cross his radar," Richards explains. "However, he is one of those people that can read the emotional temperature of a room easily. He is very connected to spaces and the emotional temperature of rooms, but not to people at all. I call him a sociopathic Nate Berkus."
With his sociopathic nature and penchant for hiding, it sounds like Mr. Blank will present challenges both to Oliver and Felicity. "He's a villain like I don't think we have ever seen before," Richards teases. "He creeps in and out of places innocuously and I think that makes it very difficult for Oliver to spot him. And who says that Oliver does stop him?"
On that ominious note, we're left to wonder if we'll see more of Richards' Mr. Blank in the future… perhaps Season 2? "I don't know [about being back]. I think we'll have to wait and see," Richards teases. "But I will say this: I had an absolute ball working on the show. I love the crew, the cast, and it was an amazing experience."
One character we know for sure we'll be seeing more of is Felicity, thanks to her promotion to series regular. Rickards was  "elated" when she heard the news she would be sticking around Arrow in a larger capacity. "It's huge news for me and for Felicity. I get to spend more time with her and more time with this awesome cast that I've become really good friends with," Rickards says. "If I had to say goodbye to Felicity that would be heartbreaking."
Saying goodbye to Felicity would be heartbreaking for fans as well, thanks to the dedicated army of "Olicity" shippers hoping to see Oliver and Felicity get together romantically. "She's got this hunk of a superhero on her hands. That's kind of the dream," Rickards says. "I think what the audience really loves is the tension. Felicity does too. That's a natural thing for her. But I don't know, I'm not the writers! I don't even think they know where it's going to go. They just burn through storyline like crazy."
While Rickards may not be able to predict if/when Olicity might happen, she does understand the why fans are so connected to the pairing of Oliver and Felicity. "I think what we do get to see is her admiration for Oliver and his admiration for her and their love for each other," Rickards explains. "The more you get to know someone on that level, the more connected you are to them. And the friendship keeps growing, that family-like feeling, that love-like feeling between her and Diggle, her and Oliver, and Oliver and Diggle."
Tune in to see that friendship between Oliver, Diggle, and Felicity tested when Deadshot and Mr. Blank enter the scene on Arrow tonight at 8 PM ET/PT on The CW.
Follow Sydney on Twitter: @SydneyBucksbaum
More:
'Arrow' Star Stephen Amell Previews Olicity Overload
'Arrow' Season 2 Scoop: Will Seth Gabel's The Count Return?
'Arrow' Star Celina Jade Teases Kicking Oliver's A** and (Maybe) Stealing His Heart 
'Arrow' Post Mortem: The Cast and Producers Reveal Dark Days Ahead 
---
From Our Partners


50 Worst Celeb Mugshot Fails (vh1)


33 Child Stars: Where Are They Now? (Celebuzz)