'Arrow' Post Mortem: The Cast and Producers Reveal Dark Days Ahead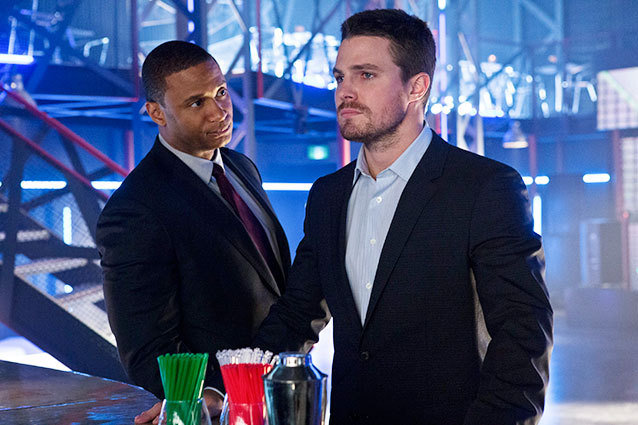 The long wait for a new episode of Arrow? Totally worth it — thanks to tonight's explosive, crazy, action-packed installment, "The Huntress Returns." We've got six more episodes left of the wildly-successful Season 1, and if you thought the action was going to slow down, you clearly don't watch enough Arrow.
"It's all going to come to a head," executive producer Andrew Kreisberg promises Hollywood.com. "Everything that you could want to happen and everything you think couldn't possibly happen is going to happen. We just pitched it to the studio and the network and they're still trying to pick their jaws up off the floor." As if we weren't already incredibly excited about the last third of Season 1. 
In order to prepare for what is sure to be an epic ending to the freshman season, we spoke to the cast and producers about what to expect in the next six episodes. Here's what is on deck for Oliver Queen (Stephen Amell), Team Arrow, and all our favorite Starling City residents as we gear up for a shocking season finale:
RELATED: 'Arrow': Steve Aoki Promises a 'Raging, Crazy Party' and The Huntress Going Psycho
Tommy's In Trouble
Ever since Tommy (Colin Donnell) learned the truth about both his best friend and his father, he's struggled with this new knowledge, and that won't end anytime soon. "He's not doing so well, honestly. Everything's been thrown into total turmoil for him," Donnell tells Hollywood.com. "You can see the strain on the relationship between Oliver and Tommy. It puts everything into question for him."
Knowing Oliver's secret also creates some trouble in paradise for Tommy and Laurel's relationship, which we began to see in tonight's episode. "It doesn't make his relationship with Laurel any easier, and the fact is it wasn't terribly easy to begin with," Donnell states. "We saw from her side that interacting with the vigilante and keeping it a secret from me already placed this strain on our relationship, and now there's another big secret. They've had such an open, very adult, honest relationship and now there's a huge secret that has to be kept. And that's not good."
Aside from his relationship with Laurel, Tommy's friendship with Oliver is also in a very bad place. "Oliver is a killer now which, obviously, that's an issue for Tommy. Part of the strain that is on the relationship is because of what Oliver has become," Donnell explains. "But it's equal parts feeling betrayed as a friend and a brother and a confidante. Oliver was the one person that Tommy always went to for advice. Tommy always thought that Oliver would be there for him, and all of a sudden that's not the case."
And to find out that not only is your best friend a killer, but also your father? That would certainly throw a wrench into Tommy's newly-mended relationship with father Malcolm (John Barrowman) … or so one would think. "Tommy's pretty good at forgetting that people kill in front of him. The fact that there is a relationship again between Tommy and Malcolm kind of overshadows the fact that he saw his father doing what he did," Donnell says. "He's so consumed by almost losing his father, having him come back to life, and having him come back into his life. It is such a huge, good thing that it sort of overshadows what he saw Malcolm do."
RELATED: 'Arrow': Stephen Amell Reveals the Aftermath of Tommy Finding Out Oliver's Secret
Malcolm's Mysterious Mentor
We haven't heard much about Malcolm Merlyn's years in Nanda Parbot — outside of the fact that he left after his wife's murder, learned how to fight from a mysterious mentor, and returned cold and distant towards his son. This sounded suspiciously like Yao Fei's mentorship to Oliver on the island, but when I brought up my hypothesis to executive producer Marc Guggenheim he – very gently but officially – shot it down.
"We made a concrete decision in the first year not to tie the island mythology in with the present day mythology. We felt like that would be a little too coincidental," Guggenheim explains. "It's a good pitch, but no. The person who trained Malcolm, [the executive producers] know who that is, but you haven't met them yet. And you may not meet them for the first two seasons of the show."
While he didn't give away much in terms of spoilers, Guggenheim did reveal if/when we will learn more about the identity of Malcolm's mentor and his years in Nanda Parbot. "It will be an ongoing mystery as to what happened in Nanda Parbot with Malcolm. We want to continue to delve into Malcolm's back story because I think people are interested in it and John Barrowman is a wonderful actor," Guggenheim says. "So assuming Malcolm survives Season one, we'll continue to explore what happened to him during those two years."
RELATED: 'Arrow' Gets a New Island Ally
Dark Days Ahead (and Behind) For Diggle
Diggle (David Ramsey) may be the moral center of Team Arrow, but all that is about to change, thanks to the realization that Deadshot, aka the man who killed Diggle's brother, is still alive. "Diggle is going to get on a blood quest. We haven't really seen Diggle like this before," Ramsey tells Hollywood.com. "Up until now Diggle has been the voice of reason and the moral authority, and he's been leading the hero to have a greater sense of morality in terms of killing. But all of that goes out the door for Diggle when he learns that Deadshot's alive. He has to hear his own words regurgitated to him, in terms of is he making the right choices, is he making the right decision, et cetera. And there will be collateral damage for that quest."
Along with his darker future, we will also learn some shocking things about Diggle's past. "You're going to see some of his other past come up and Diggle isn't as straight and clean as we all think," Ramsey reveals. "There's a history there and we're going to see some of it."
More Slade Wilson
A huge congratulations is in order for the newly-promoted series regular Manu Bennett as island badass Slade Wilson. Bennett's news joins the already announced series regular promotions of Emily Bett Rickards as Felicity Smoake and Colton Haynes as Roy Harper. Clearly, the Arrow bosses listen to what the fans want, because we just can't get enough of Slade, Felicity, and Roy! 
Follow Sydney on Twitter: @SydneyBucksbaum
[Photo Credit: Jack Rowand/The CW]
---
You Might Also Like:


Topanga's Revealing Lingerie Shoot: Hello '90s!


25 Stars Before They Were Famous