'Arrow': Steve Aoki Promises a 'Raging, Crazy Party' and the Huntress Going Psycho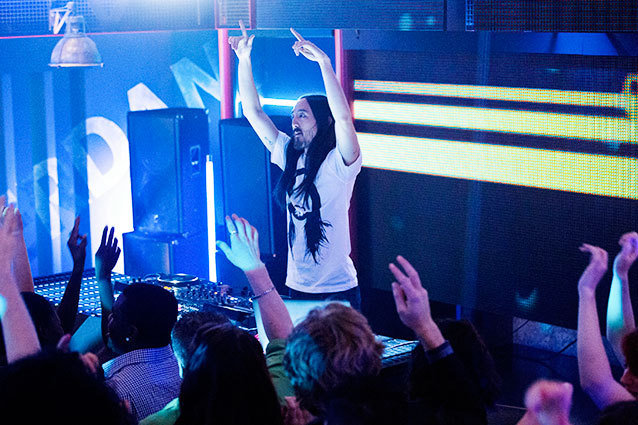 The wait is almost over: an all-new Arrow airs tomorrow night and electronic dance music superstar Steve Aoki helps kick off the explosive return in style. In "The Huntress Returns," Oliver and Tommy are finally ready to open their nightclub Verdant. How else would Starling City's premiere club debut than with the help of a globally famous DJ?
"My role in the episode is that I'm the DJ that's debuting Oliver's club, but the Huntress makes her debut again," Aoki tells Hollywood.com. "She comes back on the show and just f***s with everyone. She f***s with all the characters and we have a raging, crazy party."
Getting Aoki to play the club opening is a milestone achievement, both for Tommy and the man who plays him, Colin Donnell. "Getting Steve Aoki to come and shoot on set and getting to hang out with him, it's incredible — personally, a Colin Donnell-geeked out moment," Donnell tells Hollywood.com. "In terms of the show, it's a crowning achievement for Tommy. He's become a success on his own through the opening of the nightclub. By that same token it's going to be tainted. It already is. His business partner and best friend has concealed a ton and he doesn't know how to be around him."
RELATED: 'Arrow' Star Stephen Amell Reveals the Aftermath Of Tommy Finding Out Oliver's Secret
Donnell is of course referring to the big reveal in "Dead to Rights," when Tommy found out Oliver was the vigilante. Immediately, that knowledge is going to cause some (figuratively and literally) painful issues for Tommy. "He's going to find out what's actually laying beneath the night club," Donnell reveals, referring to Oliver's Team Arrow headquarters. "And that's not necessarily a good thing." Let's just say that The Huntress isn't exactly going to get along with Tommy… or Oliver, for that matter. 
"[The Huntress] is still after her father, who murdered her fiancé, and Oliver is now dating McKenna Hall," executive producer Andrew Kreisberg reveals. "So what happens when you've finally met the right girl and you're dating and everything's happy, but your psycho ex-girlfriend comes back? There are crossbows and arrows and explosions and car chases but at the end of the day it's the emotionality between the characters that really puts Oliver in a bind because he does still have feelings for her, but at the same time she's making some questionable choices that will force him to act."
To prepare yourself for tomorrow's action-packed episode, Aoki recommends that you listen to his most popular songs if you haven't heard his music before: "Turbulence," "No Beef," and his remix of "Pursuit of Happiness." "Those are my really big, more popular songs, but the songs I'm playing in the show are new," Aoki reveals. "They're underground records that I put out on my label that just came out two months ago. 'Singularity' and 'Transcend.'"
While Aoki plays the nightclub's opening on the show, he admits that filming his scenes wasn't like being at one of his concerts in real life. "It definitely wasn't like playing a show. I had to kind of direct the crowd in front of me to make it look more real," Aoki says. "At the beginning they were holding up cocktail glasses and I was like, 'That can't happen. You've got to put that down, you've got to get alive and throw your arms up and jump around!' And then it feels right. When you're doing something like that it's hard to really get into the moment if you're not an actor. So I just had to reenact what I needed to feel to have the crowd be more engaged."
RELATED: 'Arrow' Gets a New Island Ally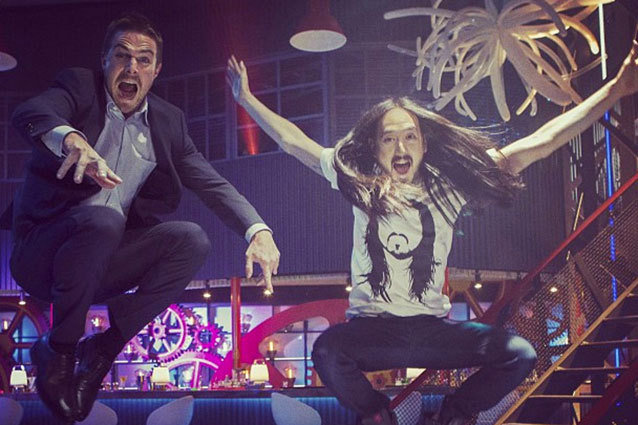 Another reason his cameo wasn't like one of his shows was because it was lacking two of the three Aoki staples: throwing a cake at someone in the crowd, white raver rafting (crowd surfing in a raft), and doing his infamous Aoki jump. "No caking, no white raver rafting, but I did the Aoki jump with Oliver [Stephen Amell]," Aoki says. "It didn't make it on the show, but I posted it online. It was cool."
Since this was Aoki's TV debut, he had no idea what to expect going in. "I didn't really go in there with expectations of how people would be, and there was just no pretension. At all," Aoki says. "All the people were just really cool. I was surprised that they even knew who I was. I know what it's like to be in this world where you don't know what's going on in different areas, like dance music or something. But some of the other characters that weren't on that episode, the other actors came out and all wanted to say hi and take pictures and stuff. It was really cool."
If you still need convincing to tune in tomorrow night, Aoki sums up the episode best: "We party, we go crazy, and the Huntress f***s my s*** up."
Follow Sydney on Twitter: @SydneyBucksbaum
[Photo Credit: Jack Rowand/The CW; Instagram]
---
You Might Also Like:


Topanga's Revealing Lingerie Shoot: Hello '90s!


25 Stars Before They Were Famous