'Arrow': Why You Need To Be Watching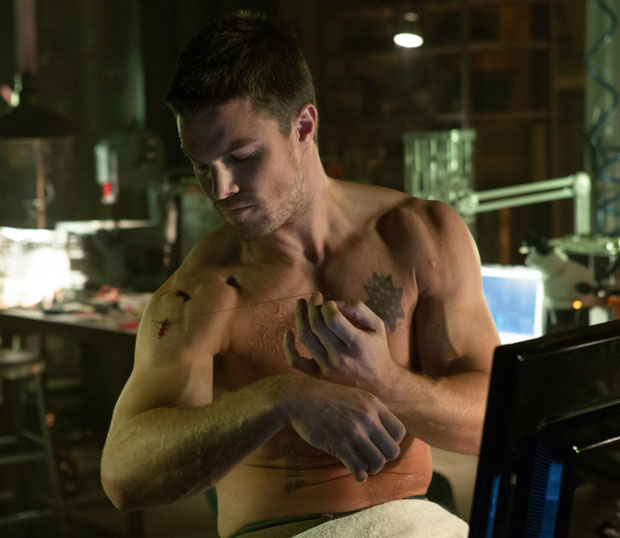 Last night's Arrow premiere opened to strong ratings – 4.02 million viewers and a 1.3 demo rating, making it the CW's highest-rated drama since 2010. It was also the CW's most-watched series premiere since megahit The Vampire Diaries debuted back in 2009. But does that mean that it's a good show?
I can wholeheartedly say yes, yes it does. Those who haven't seen it may write it off as just another CW show packed with six packs and beautiful eye candy, or another Smallville, or a Smallville spin-off, or a meathead violent action show. And all of those people would be wrong. Of course, to be fair, there is lots of ab-tastic and beautiful eye candy and a fare share of violent action. But these are only the cherries and whipped cream on top of the decadent, rich, hot fudge sundae that is Arrow.
First, a quick recap of the show's premise. (Don't worry, this post will be SPOILER FREE, to give those who are on the fence about the show a chance to get into it without ruining anything!) Hard-partying billionaire playboy Oliver Queen (Stephen Amell) was the only survivor of a shipwreck that killed his father among others, and he spent five years marooned on a mysterious and brutal island before being rescued. Queen comes home to Starling City a changed man, though he still presents a partyboy façade to hide his new alter ego hell bent on cleaning up corruption and evil via a list of names his father gave him before he died. In order to exact his revenge, Queen takes on the secret identity of Arrow, a hooded archer who isn't afraid to take a bullet or two or snap a guy's neck just because he saw Queen's face. He keeps all those who were once close to him out of the loop about his new, darker persona. His sister, Thea (Willa Holland), nicknamed Speedy (watch the premiere to find out why the name is so appropriate), his borderline-douchey party-loving best friend, Tommy (Colin Donnell), who fell into bed a few times with Queen's legal aide ex Laurel Lance (CW Queen Katie Cassidy), and Laurel, whose sister died in the shipwreck and father (Paul Blackthorne) is Det. Quentin Lance, suspicious of this new hooded lawbreaker. Queen's mother Moira (Susanna Thompson) married her dead husband's friend, and is hiding something regarding her newly recovered son.
Whew. Now that we got that out of the way, let's discuss why Arrow deserves some of your highly coveted DVR storage space.
First of all, this is not another CW formula product. Arrow doesn't simply take a wide-eyed innocent girl with a high moral compass and surround her with equally beautiful people who all hide secrets and behave in dubious manners but want to all sleep with her. Arrow is nowhere near as cut and dry. The wide-eyed innocent girl? Laurel Lance went to law school and is determined to take down the same evil scum Arrow is targeting. She isn't going to fall back in love with Queen now that he's back. After all, he cheated on her with her sister, and led her sister to her death. She's a strong, hardworking woman with the same goals as Arrow (of course, without all the violence and archery). For once, love triangles are not the focal point of the show, just an accessory to the mystery surrounding Arrow and his vigilante motives.
But Arrow isn't just a lazy response to superhero fandom either. We have spent months becoming oversaturated with superheroes at the box office — and, on the small screen, the CW bid adieu to Smallville after 10 years. But Arrow isn't taking advantage of the popularity of the genre or the void left by an angst Clark Kent. Amell's superhero isn't a traditional superhero. He is fighting bad guys, sure, but he has no moral quandaries about killing, separating him from Smallville's very moral, very supernatural Superman. 
And he's plenty separate from Justin Hartley's Green Arrow as well. The mythology, character — everything has been wiped clean. Whereas Hartley's Arrow was fun and light, Amell's Arrow is gritty, dark, and violent, shaped by the island that broke him down and built him anew. Amell's Arrow is his true self. It's his only identity now. Oliver Queen is the mask that hides the soldier within. It's an intriguing concept built within an intriguing show that's unlike any other show on TV right now — a difficult feat to accomplish. What can we say? Arrow truly hits the bullseye.
Watch the pilot here — Arrow airs Wednesdays on the CW.
Follow Sydney on Twitter @SydneyBucksbaum
[Photo Credit: Jack Rowand/The CW]
More:
Is 'Arrow' a Bullseye? Everything You Need to Know Before the Premiere
'Arrow' Premiere: Stephen Amell and Cast Tease Sex, Violence, and Family Drama
Comic-Con 2012: The CW's 'Arrow' Shoots For Thrills, Mystery, Biceps