Ashton Kutcher & Mila Kunis Sign on for 'That '70s Show' Reunion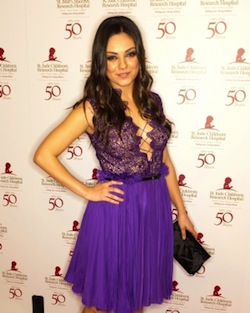 If someone told you in 1998 that a series about pot-smoking, bell bottom-wearing teens in Wisconsin would produce two of the next decade's biggest stars, you probably wouldn't believe them. And if they told you Kelso, the dumb pretty boy, and Jackie, the spoiled rich girl, were the two destined for superstardom, you'd definitely think they were joking. Now Ashton Kutcher and Mila Kunis will have a chance to reminisce about their humble beginnings when the cast of That '70s Show reunites during Fox's 25th Anniversary Special.
Kunis and Kutcher will be joined by former castmates Laura Prepon and Wilmer Valderrama for the special, which airs April 22. So what about the rest of the cast? Earlier, Hollywood.com took a look at what they're up to today, and it's pretty obvious why Lisa Robin Kelly won't be returning. Topher Grace didn't leave the show on good terms, but what about Danny Masterson? Though he hasn't been acting much recently, it sounds like a great opportunity to plug his restaurants.
Kutcher and Kunis aren't the only big stars returning to Fox. The two-hour special will also feature Gillian Anderson and David Duchovney of The X-Files, Gabrielle Carteris, Shannen Doherty, Jason Priestley and Ian Ziering from Beverly Hills, 90210, Christina Applegate, David Faustino, Ed O'Neill and Katey Sagal from Married…With Children, and stars from the network's other big hits.
[EW]
More:
Lisa Robin Kelly Arrested: Where Are the Other '70s Show' Stars?
Miranda Lambert Speaks on Ashton Kutcher's ACM Stunt: Don't Mess With Country