'Awkward' Premiere: Not So Awkward Anymore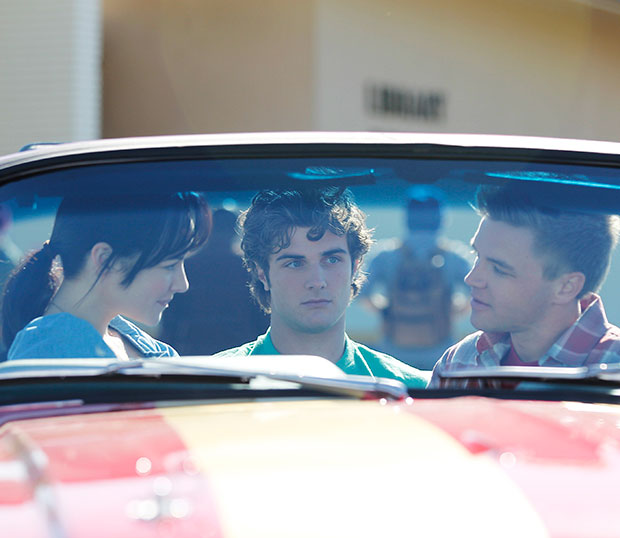 Well, that wasn't really awkward at all.
MTV's gem of a scripted teen dramedy Awkward started as candid glimpse into 15-year-old Jenna's (Ashley Rickards) well, awkward existence. After suffering a legitimate accident, our heroine is supposed by her entire high school to have attempted suicide. It earns her notoriety and the ire of the resident mean girls, but it also pushes her towards it-boy Matty, who refuses to date her publicly, but has no problem taking her V-card. Enter Matty's best friend, who has a genuine interest in Jenna and you've got yourself a good ol' fashioned love triangle. And Season 2 opens with the same theme. The problem is, the episode is missing most of the elements that made the quirky little series so Awkward in the first place.
Jenna opens the premiere by writing in her blog, "I've gone from the girl who tried to commit suicide to the girl who has a date on New Year's Eve." And that single line about sums it up. Season 1 was chock full of yummy romantic entanglements, but the real issue was Jenna's school-wide rep. She was navigating a sea of obstacles, including her bubbly, girly bestie and her own mother. It was the journey of the underdog, and it was cathartic for anyone who never made it to the top of the cheerleading squad's pyramid.
After dumping Matty for good, Jenna is spending Christmas break making out with Jake in every clandestine spot she can find. And because Jake is the polar opposite of his friend, he's quick on the "online committed" trigger. There's just one problem: Jenna can't bring herself to accept his request. And that indecision leads Jake into faux-masculine-decision-town, where he tells Matty he and Jenna are "just hanging out." Dude, you have no idea, but you've just opened a big ol' can of competing worms.
Matty picks up what Jake's unknowingly laying down and when he gets a moment alone with Jenna, he drops the bomb: He wants another chance. Seriously? He proclaims his intentions to be "better this time" and seals up his case with the ever solid I-took-your-virginity card. Yes, Matty. That is definitely how virginity works. It's basically a mark to ward off all other potential male suitors. Matty was here first, so your argument is invalid. Oh, the teen male's twisted brain, however does it function?
Ultimately, Jenna's big choice comes down to the New Year's Midnight kiss. And after escaping to talk to a frazzled and cat-laden Val, she realizes she's letting her fears about feeling rejected (thanks to Matty's refusal to acknowledge their relationship) guide her. So just in time, she waltzes into the party and kisses Jake right at midnight while mean girl Sadie walks into to find Matty drunk and destitute in the wake of losing Jenna. He kisses her when she says she doesn't want to hear about Jenna, but when he passes out, it's clear he's just grasping at anything that might help to ease his pain. Where did this come from and where was it last season?
Much to Matty's further dismay, Jake and Jenna are online official by episode's end but there is one sort of awkward problem: Jenna tells Jake she no longer possesses a V-card and it freaks him out a little. It's clear that while he gets over it in the romantic light of the Christmas tree, he's going to be wondering about when she lost it and who she lost it too. And if he finds out it's Matty, well, things are going to jump right past awkward and land in good ol' violent territory.
But let's hope Jenna doesn't descend into the land of teen characters defined by their hunky suitors. Perhaps the season premiere focused mostly on the boys in order to snare a bigger audience. We can't lose our outcast lady so soon in the series! Let there be more awkwardness, please.
Follow Kelsea on Twitter @KelseaStahler.