5 More Badasses to Cast as 'Community' Professors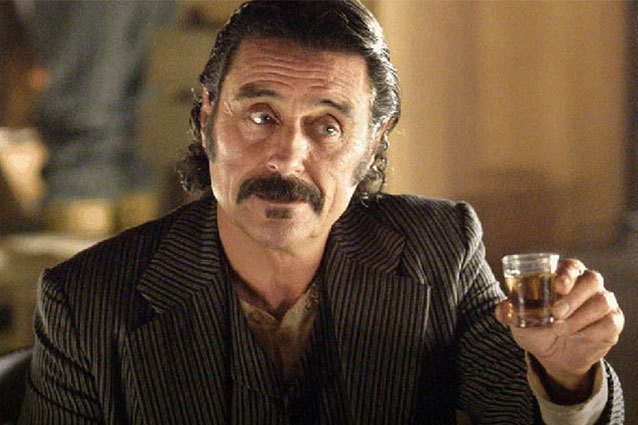 HBO
Community has always had a soft spot for some tough customers. We're not surprised, since keeping the Greendale Seven in line is no job for the weak. Breaking Bad's Jonathan Banks and Justified's Walton Goggins have already been locked down for the upcoming fifth season, joining Michael Kenneth Williams (The Wire) and Giancarlo Esposito (Breaking Bad) in the show's tradition of the unlikely comedic casting of guys-you-do-not-want-to-mess-with. Should any more teaching positions open up, we've got five more bruisers for consideration.
As the suspicious and intimidating Sgt. James Doakes, Erik King went head-to-head for two seasons with principled serial killer Dexter Morgan. And Dexter hasn't been quite the same since he left. We see him as Community's new Calculus professor, who will terrify Annie with his sadistic predilection for the dreaded pop quiz.
From playing the legendary Al Swearengen on Deadwood to a psychotic Santa Claus on the most recent season of American Horror Story, Ian McShane has cultivated a menacing reputation. He can run Greendale's Foreign Language department, where he can creatively curse to his heart's content without offending network censors. 
Jack Huston is responsible for one of Boardwalk Empire's most intriguing characters, mysterious war veteran Richard Harrow. We see him as a dashing yet untrustworthy Comparative Lit professor who seduces Britta and irks Jeff.
Coster-Waldau, Jamie Lannister on Game of Thrones, could shake things up as a visiting professor from the Human Beings' sister school in Denmark. Abed would be obsessed with uncovering his true identity and place of origin, since he bears a striking resemblance to a certain Kingslayer.
Bad-asses are not exclusively male. Who could be more qualified to teach a Greendale class on Self-Defense than Buffy the Vampire Slayer and Dollhouse star Eliza Dushku? She would turn an initially reluctant Shirley into a lean, mean, fighting machine. 
More:
'Breaking Bad' Recap: Season 5, Episode 13
'Boardwalk Empire' Season 4 Premiere Recap
Willem Dafoe to Terrorize Shailene Woodley in 'The Fault in Our Stars'
---
From Our Partners:


40 Most Revealing See-Through Red Carpet Looks (Vh1)


15 Stars Share Secrets of their Sex Lives (Celebuzz)
---