Barbara Walters' Retirement: Why TV Journalism Will Never Find Her Replacement
Barbara Walters' reported retirement at 83 doesn't just mark the end of an illustrious, wildly successful career that spans 52 years. It marks the end of a dying breed: The larger-than-life woman TV journalist. 
It's without an ounce of sentimentality or nostalgia that I say, no one will ever be able to replace Walters —  because Walters' position no longer exists. 
RELATED: Barbara Walters To Retire?
Most famous for her incredible interviewing skills, Walters is often named on the list of the industry's best female journalists of all time, a list that sadly doesn't usually inch past 20 names. (The Atlantic's recent list makes it to 22 while top journalism school New York University stops short at 21, but both include Walters.) But her impact goes beyond the practice of TV journalism, in which she excelled by becoming the first ever female national nightly news co-anchor, followed by her newsworthy interview series The Barbara Walters Specials. Walters covered all angles of our culture, leading her to become a pop culture icon in addition to her success as a newswoman, even landing a spot on TV Guide's 50 Greatest TV Stars of All Time — a list that included Dick Van Dyke, Lassie, and Miss Piggy. In a way, Walters became the most famous face of women in journalism throughout her career. Now that she's stepping down, it's hard to imagine anyone, even the likes of Katie Couric or Christiane Amanpour, taking up her mantle. 
Couric and Amanpour are important examples because they both represent different segments of Walters' legacy.  Couric is forging the path as the "new Walters," coming up through the Today Show machine, being outsed as a nightly national news anchor (Walters was booted when viewers failed to accept her as a female nightly news anchor), and starting up her own series that makes headlines for its interviews. But Couric's career slides a little away from Walters' monumental example, with her daytime talk show Katie angling more towards Oprah than a Barbara Walters Special  with episodes titled "Tina Fey & Paul Rudd's College Confessions" and "How to De-Stress Your Life with Goldie Hawn and Deepak Chopra."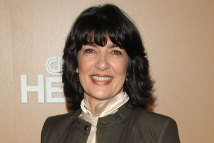 Amanpour, on the other hand, is all business. Known primarily for her reporting, Amanpour is more of an investigative journalist than Walters, but it's her nightly news interview series Amanpour (in addition to her position as CNN's chief international reporter) that could put her at an angle to take up mantle of Walters' long list of landmark interviews, including Fidel Castro, Indira Gandhi, and Hugo Chavez. 
The issue, however, is that there is no singular woman in TV journalism who is primed and ready to take up Walters' post, effortlessly balancing the seriousness of hard-hitting journalism and the pop culture appeal of a host on The View. And there never will be. Amanpour, Rachel Maddow, and MSNBC's Andrea Mitchell may be some of the leading women in TV journalism, but they're not Walters, and it's not entirely clear that they even want to be. 
RELATED: Why Barbara Walters Thinks These People Are So Fascinating
Part of that comes from the way in which online journalism is segmenting TV reporting. Because of the rise of online journalism and the ability to access it through mobile devices, TV news is slowly declining. A recent study from the Pew Research Center for People and the Press reports that the number of people under 30 who get their news from television has decreased from 49 percent in 2006 to 34 percent in 2012. Meanwhile the number of people who get their news online, through social media (which includes through journalists' own Twitter feeds) has increased from nine percent to 19, and it's growing. 
At the same time, few serious women journalists on TV could even qualify for a gig like Walters' post on the view. It was about a year ago that Anne Curry was pushed out of the Today Show, a spot she'd more than earned, because her style was too austere and weighty, where the show was seeking light-heartedness and fluff. Now, the morning program is reportedly seeking Anderson Cooper as a potential savior — not because of his extensive experience as a reporter, but rather his ability to cuddle Grumpy Cat, field Kathy Griffin's sexual advances on live TV, and become a giggling mess at the mention of a Gerard Depardieu bathroom pun. At this rate, it seems more likely that we'll see Miss Grumpy Cat herself or Kid President take over Walters' yearly "10 Most Fascinating People" program, than a serious personality like Maddow or Amanpour. 
RELATED: Barbara Walters Has the Chicken Pox – Get Well Soon!
But this lack of a Walters' successor isn't necessarily something to mourn — Barbara, herself, will be missed, but her position won't be, necessarily. While women journalists still have a long way to go to match the numbers and fame of their male counterparts, her placement as a sort of catch-all persona for the plight of the woman reporter has done all it can. It proved that a journalist at the top of their field doesn't have to be a man; it proved that an interview with a political leader can be just an influential as one with a pop icon; it proved that a woman could become wildly famous for more than her beauty or her charm, but for the brain inside her head.
And as we move further and further into an age of famed Internet-based journalists and more specialized TV journalists like Amanpour — who has a lock on international news — and Maddow, who built her career on her outspokenness and honesty rather than her universal appeal, the echo of Walters' influence is everpresent. And in a way that's the highest compliment she could be paid: she's infinitely influential and completely irreplaceable. 
Follow Kelsea on Twitter @KelseaStahler
[Photo Credits: Donna Svennevik/ABC; Peter Kramer/AP Photo]
---
You Might Also Like:


Topanga's Revealing Lingerie Shoot: Hello '90s!


13 Most WTF Fan Tributes