'Bates Motel' Is Your Creepy New Guilty Pleasure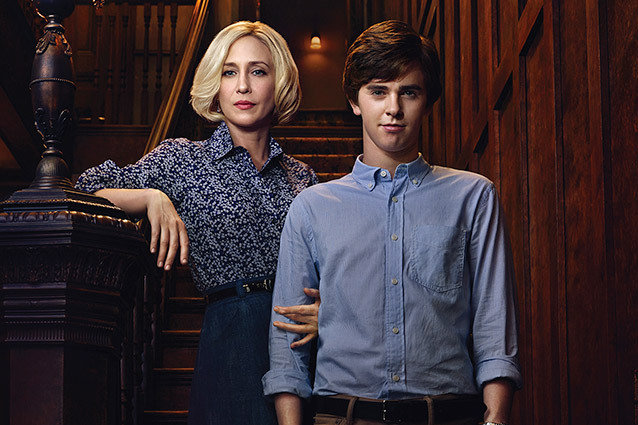 A&E Network
Psycho is not only renowned as one of Alfred Hitchcock's most notable films, it's also a significant part of movie history. The classic film doesn't lend itself to a prequel without giving away one of the biggest spoilers in film history. It suffices to say Bates Motel manages to offer an intriguing suspenseful drama without relying too much on the Hitchcock mythology. In fact, the series offers unexpected twists and turns and a ton of psychoses. 
Norma (Vera Farmiga) and Norman Bates (Freddie Highmore) leave after the mysterious death of Norman's father. They head to picturesque town of White Pine Bay, Oregon where Norma buys a motel in a flight of fancy. This town isn't as wholesome as it seems. It's full of murder, secrets, and mysteries. Deaths can't seem to stop happening around the Bates family. Plus, there's growing sexual tension… between Norma and Norman?!? To amp up the drama, Norma's older son Dylan Massett (Max Thieriot) manages to provide help, trouble, and help in getting into trouble. Sherriff Alex Romero (Nestor Carbonell) has a bone to pick with the family and secrets of his own.
The series bears a striking resemblance to one of the most famous canceled series in history Twin Peaks. Creator Carlton Cuse even admitted during a panel for the show, "We pretty much ripped off Twin Peaks." The series is memorable for blending the dark and twisted with an offbeat sense of humor and irreverence. Like Twin Peaks, the small Oregon town is chock full of secrets, people with dark desires, and even darker murderous impulses. 
Not only does Bates Motel capitalize on the fandom of its source material, it also blends some pretty high caliber acting. Farmiga, sister of American Horror Story actress Taissa Farmiga, is able to transition from flighty dingbat to overbearing lioness in a heartbeat. She's well-meaning but pathologically narcissistic and neurotic. She lords over Norman enough to mold him into the twisted person we all know he'll become. Highmore also captures the sense of tension and awkwardness that could snap as he becomes a murderer. He also manages to channel Anthony Perkins by consistently calling Norma "Mother." 
Now's the time to catch up with the series, before it returns in March. Luckily, the first season is available on Netflix. But if you'd like a primer for the series read on for a recap of Season 1 but beware of spoilers.
Norma buys the new Bates motel as a foreclosure. Former owner Keith Summers shows up and rapes her. Norma kills him and she and Norman try to cover up the crime. In the process of trying to hide the body, they stumble on Keith's side business of human trafficking. He used the hotel as a front to traffic in sex slaves. This causes a ton of trouble for the Bates clan as his former business associates pester the family, with the sheriff convinced Norma did away with Summers. Norma gets some help from her new boyfriend, Sheriff Zack Shelby (Mike Vogel), but he turns out to have one of the sex slaves hidden in his basement.
The economy of White Pine Bay is falsely inflated because of a huge pot field hidden in the forest. Dylan gets drafted into the drug trade and rises the ranks. But he still hasn't met the mysterious leader of the town's side business. He wants to make enough money to take Norman away from Norma's overbearing ways. He clashes with the family but knows that Norma is a bad influence. Meanwhile, Sheriff Romero is definitely tied to illegal dealings.  
Norman makes fast friends with rich girl Bradley Martin (Nicola Peltz) and outcast Emma Decody (Olivia Cooke). At first, both girls are interested in Norman. But when Norman gets de-virginized by Bradley he gets a little obsessed with her despite her creepy boyfriend. Norman starts to get haunted by visions of his mother when she's not there. He also exhibits some creepy behavior, like keeping a souvenir of the incident with Keith.  Norma confesses to Dylan that Norman is responsible for his father's death. The season ends with Norman fleeing from a flirtatious teacher's house, seemingly scared by the sexual tension, leaving her bleeding body on the floor of her bedroom.
Hooked yet?