Cannes: Matt Damon & Michael Douglas Are Fierce, But 'Behind the Candelabra' Is Tame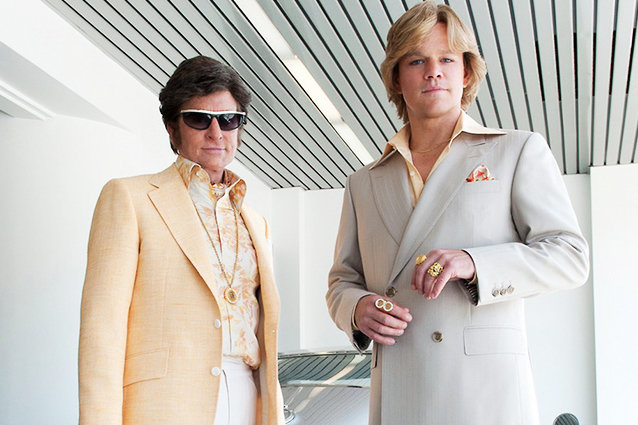 "Too much of a good thing is wonderful!"
Liberace's mantra seeped into every aspect of the legendary piano player's life, from his stage productions, to his home decorating, to his romantic life out of the paparazzi's cunning eyes. As Steven Soderbergh's upcoming HBO biopic Behind the Candelabra discerns, that extravagance was ultimately the root of severe tragedy — an engrossing downward spiral recreated by two of Hollywood's strongest performers.
Matt Damon stars as Scott Thorson, a dog trainer-turned-Liberace love interest at the young age of 18. A testament to his agelessness and subtly, 42-year-old Damon miraculously pulls of the time traveling act, sporting a moppet do and a grin of innocence. He's hypnotized by the musical stylings of Liberace, and when they meet, the larger-than-life star finds himself equally entranced.
Michael Douglas is an unexpected choice for Liberace. Throughout his career he's been more of a dapper everyman than a chameleon, but in Behind the Candelabra, he disappears behind the fabulous guise of Liberace. With a particular speech inflection and Liberace's revolving door of looks (costumes, wigs, and the eventual facelift makeover), Douglas is able to direct his confidence and charm through a new filter. Soderbergh's approach is particularly reserved and Douglas follows suit. Liberace's ambition and lifestyle may have been grand, but in the film, the relationship between the singer and his young ward is intimate, wistful, and loving. Until it becomes nightmarishly bitter.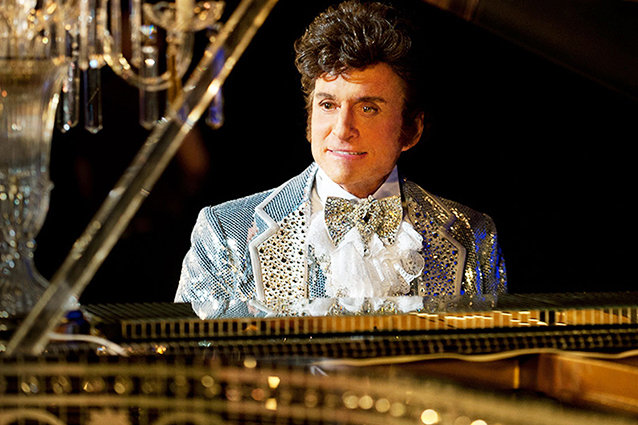 As rousing as Douglas is, Behind the Candelabra is told through Damon's eyes, giving the actor the meatiest part. It's a sweeping role for Damon, similar to the arc of films like Goodfellas or Boogie Nights. In his early days with Liberace, Scott is wide-eyed. The champagne, the chats in the hot tub, joining "Lee" at his shows and watching from backstage — the rich and famous luxuries come in like a storm and Scott couldn't be happier. When the movie rolls into the '80s, years of Liberace's demands finally take their toll on the now-directionless Scott. A lifestyle reboot courtesy of plastic surgery and crash dieting crack the romantic duo, sending Liberace looking for a replacement.
Those expecting a campy gay romp may be disappointed by Behind the Candelabra, less in line with Soderbergh's Magic Mike style than his Oscar-winning work on Erin Brokovich. In front of the candelabra was the glitz; behind it are a handful of characters who helped shape the comfortable world in which Liberace lived. Much of the drama takes place in Liberace's diamond-encrusted mansion amid a harem of chiseled man servants. While Sodebergh is restrained in his directorial choices, he does take advantage of the comedic opportunities of shooting in a home where everything sparkles. Rob Lowe shows up halfway through to provide his reconstructive services to Liberace. Clearly he's gone under the knife himself — Lowe scrunches up his face, spits out words with a pucker, and steal scenes left and right.
Soderbergh has proclaimed that Behind the Candelabra will be his final film and it plays as a soft grace note. The film — which premieres this Sunday, May 26th on HBO — is a tame biopic of outwardly flamboyant subject matter, a choice that serves the honest portrayals of the two leads. There are subjects that feel underrepresented because of the focus; the "is he?/isn't he?" questions that plagued Liberace throughout his career involved a sizable amount of string pulling. It's touched upon in Behind the Candelabra, but Soderbergh's camera always returns to the musician's growing tension with Scott. Perhaps a biopic for another day.
Behind the Candelabra debuted at the 2013 Cannes Film Festival and buzz is already pointing to Damon and Douglas as contenders for the fest's Best Actor award. Can they both win? You can never have enough of a good thing.
Follow Matt Patches on Twitter @misterpatches | Follow Matt Patches on Twitter @Hollywood_com
More:
Go 'Behind the Candelabra' in First Trailer
Cannes: 'The Past' Boasts Some of the Year's Best Performances
Damon and Douglas Say 'Behind the Candelabra' Respects Liberace
---
From Our Partners


Stars Pose Naked for 'Allure' (Celebuzz)


Which Game of Thrones Actor Looks Least Like His Character? (Vulture)