Aaron Sorkin Is Awfully Fond of Montages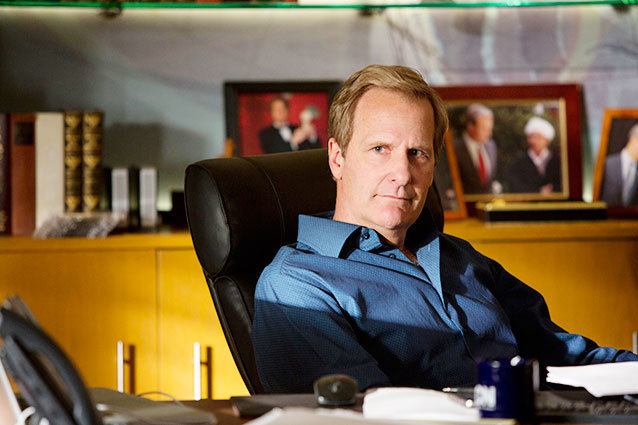 HBO
By now, we know what to expect when we embark on an Aaron Sorkin series: lightning-fast dialogue; references to the golden age of musical theater; a fair amount of preachiness; and a couple of moving montages. From The West Wing to Studio 60 to The Newsroom, the showrunner uses the emotionally manipulative device to lift our spirits and sell that drama. Let's take a look at some of the most memorable scored sequences in Sorkin history.
The Newsroom  —"Fix You"
The HBO series is set in recent history, and so uses (some might say "exploits") the incidents we just lived through as plot points. The genius and the ickiness of that strategy are at odds in this uplifting montage where the ACN news team struggles to accurately report the shooting of Gabby Giffords, all to a Coldplay soundtrack. 
The West Wing — "Hallelujah"
It's depressing enough to see CJ hear the news that the Secret Service agent who saved her life and scored a date with her met an unfortunate end. Do we really need to lay some Jeff Buckley down on top of that to drive it home?
Studio 60 on the Sunset Strip — "Will You Still Love Me Tomorrow?"
If only the real Studio 60 had had as much success as the fictional Studio 60. There's some premature celebrating going on here.
The West Wing — "Brothers in Arms"
Thanks to this stirring second season montage, Dire Straits' "Brothers in Arms" now completely belongs to the Bartlet White House. No subtlety here — just a dramatic thunderstorm, a roomful of reporters, and Martin Sheen showing us how it's done.
The Newsroom — "Let My Love Open the Door"
The second season finale of The Newsroom aired right after last week's explosive Breaking Bad, and soothed a nation with a much-needed pile of warm fuzzies. We sailed into hiatus on champagne bubbles and this Pete Townshend cover by the band Luminate.
More:
Five Horrible, Horrible Ways 'Breaking Bad' Could End
The Funniest Emmy Moments of All Time
Things You Need to Know About 'Scandal' Creator Shonda Rhimes
---
From Our Partners:


40 Most Revealing See-Through Red Carpet Looks (Vh1)


15 Stars Share Secrets of their Sex Lives (Celebuzz)