Who Had The Best Halloween Costume on 'New Girl?'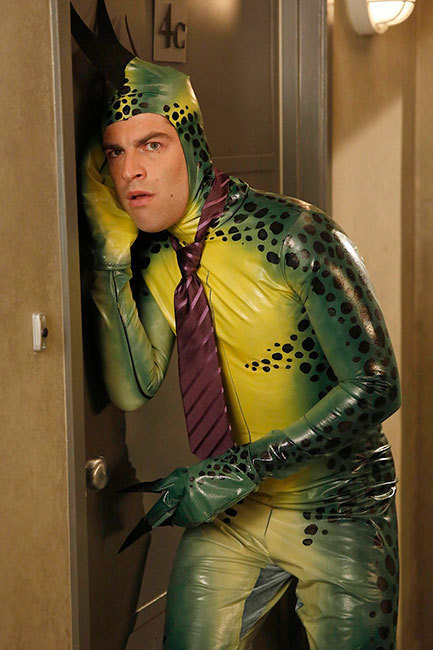 Greg Gayne/FOX
Last week's New Girl found the loftmates celebrating Halloween a week early. The party was, needless to say, a bit of a mess (though not as much so as Schmidt's hellacious office party from a few weeks ago). Antics aside, all of the roommates (plus Cece, of course) had very…well, interesting costumes. Let's take a look, ranked worst to best.
 Cece
Oh, Cece…I know you just had your heart broken, but that has got to be one of the lamest costumes ever. A cheetah bralette and a pirate hat? What is that supposed to be? A catty pirate—I mean, is that even a thing? Maybe I'm missing something here.
 Nick
Okay, so to be fair, Nick tried even less than Cece, but at least his laziness forced him into a bit of originality: his costume consisted mainly of a rainbow beach towel (secured oh-so-classily with a piece of duct tape) and an old "happy birthday" crown. He dubbed it, "The Paper Mountain Trash King."
 Jess
Are we really surprised that Jess would have a completely obnoxious costume? It's even worse than Shelby's "Reigning Cats and Dogs" bit from season 2: Joey Ramone-a Quimby. Pure insufferability. Though she does get points for the adorable bob (maybe Ms. Pantene Spokesperson can be the next starlet to make the chop).
 Winston
So as much as everyone teased him for his David Letterman costume (Schmidt thought he was Maya Angelou), it was actually pretty spot-on. He got the shaggy gray wig just right, and the gold, wire-rimmed glasses? So pitch-perfect I got chills.
 Schmidt
Is it really any surprise that Schmidt had the best costume of the bunch? He went as a "public serpent"—basically, he wore a skin-tight (would we expect anything else from our favorite douchebag?) lizard costume, and paired it with a snazzy purple tie. Only Schmidt has the confidence to make himself look that ridiculous—and that is why we love him.