Remember When Miguel Kicked Some Ladies in the Head? 6 Craziest Moments of the Billboard Awards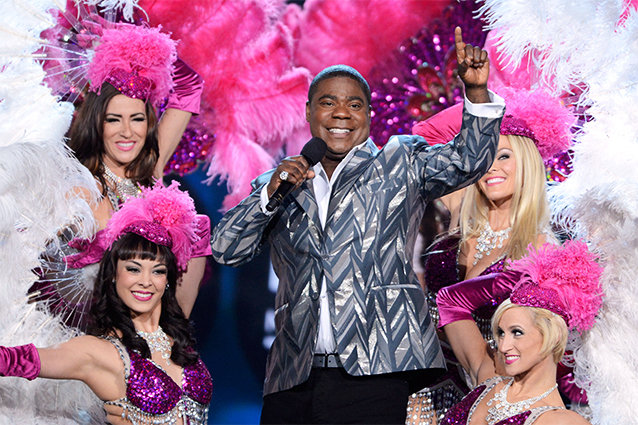 The Oscars, the Emmys, the Golden Globes — these bigwigs of the awards show community have blossomed with the sort of glitz and prestige that make for can't-miss annual small screen watching. But even their smaller brethren have some inimitable charms. Wanna see famous people get slimed? Tune into the Kids Choice Awards. Or a grown woman dressed like a stick of butter? Try the Comedy Awards. How about pop icons breaking dishware and neo soul artists kicking people in the head? Easy one: Billboard Music Awards.
We anticipated a good deal of madness when we heard that Tracy Morgan would be hosting the 2013 Billboard Awards — considering the actor/comedian's adroit ability to take the form of a drunk sea lion. While Morgan managed a pretty civil show, peppering in no more than a few babbles about Wayne Newton being his biological father between the special's countless array of musical performances, the Billboards did offer a fair share of noteworthy brow raisers…
1) JUSTIN BIEBER GETS BOOED
While animosity for Justin Bieber is rampant in the general public, candid expression of Bieber disapproval is usually kept under wraps at music awards shows. After accepting the Milestone Award, however, Bieber was met with a little bit of applause… and a whole lot of booing.
2) KID ROCK DISSES SELENA GOMEZ 
The country rock artist was one of the Early presenters… clearly they wanted to get him out of the way before he was too sauced. Rock stumbled through a jagged, acerbic introduction, jabbing at the night's performers for lip-syncing (with Selena Gomez as his implicit target), and even tossing his mic for good measure — just like Pete Townshend would have done.
3) CHRIS BROWN SHOWS OFF MARTIAL ARTS 
Surprising no one, Chris Brown exhibited yet another extravagant show of poor taste. Infamous for his physical attack on then-girlfriend Rihanna, an allegedly rehabilitated Brown would be wise to distance himself from any semblance of violent behavior. But the dolt that he is instead lines his choreography with martial arts moves. And our contempt grows ever more powerful.
4) TRACY MORGAN GOES "GANGNAM STYLE" 
The one particularly memorable turn for the 30 Rock vet was his in-costume take on Psy's "Gangnam Style." Morgan suited up and took on the task of emulating the viral pandemic, making the whole thing… pretty much exactly as ridiculous as it has always been.
5) THE DUDE FROM A-HA SHOWS UP 
Didn't you always wish that A-ha would spring from the pages of your public eatery reading material and beckon you into a magical world of pencil sketchings and carefree dancing? Well, the Billboards delivered our 1985 hero Morton Harket in the flesh in an unexpected live (sadly, not animated) performance of "Take on Me" midway through the show.
6) MIGUEL KICKS SOME LADIES IN THE HEAD
And here's the kicker: R&B artist Miguel, during a performance of "Adorn," attempted a swift airborne maneuver, a surefire way to dazzle his fans with his nimble capabilities. Instead, he knocked two poor women right in the noggin. 
Follow Michael Arbeiter on Twitter @MichaelArbeiter | Follow Hollywood.Com On Twitter @Hollywood_Com
More:
Billboard Music Awards 2013 Winners List
Listen to the Leaked Britney Spears Song 'Ooh La La' 
We Need To Talk About Justin Bieber's Monkey
---
From Our Partners:


Zoe Saldana Strips Down For Magazine (Celebuzz)


33 Child Stars: Where Are They Now? (Celebuzz)