'Boardwalk Empire' Returns: A Deep Dive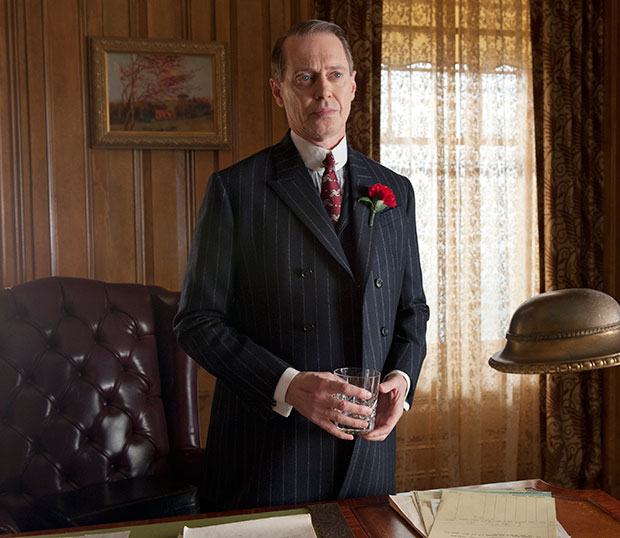 Over the next few months, we'll see new series soar, old series sour, and so much Jersey Shore madness, we'll want to shower. Let's face it: The Fall TV season is intimidating. With dozens of new and returning shows hitting our small screens, we know we have some big choices to make. So, to help you determine what to watch, we're digging deep into the most notable series premiering this season. Where did each show leave off? Where is it headed? And who should you watch it with? Today, we're checking out the return of Boardwalk Empire… a series that left us with a particularly unexpected, jaw-dropping, and (as many believe) show-destroying cliffhanger (of which there are a few spoilers below). But can it pick up the pieces?
Series: Boardwalk Empire
Premiere Date: Sunday, Sept. 16 at 9:00 PM ET
Number of Seasons: Two going on three.
You'll Like It If: You thought the Roaring '20s were a better time. A simpler time. A time when machine gun violence was at an all-time high, and the legal distribution of alcohol was at an all-time low.
You Won't Like It If: You thought killing off Michael Pitt's character was the absolute worst move the series could make, and that the life of the show died along with Jimmy Darmody.
Cast: Everybody's third favorite actor Steve Buscemi leads a cast of Brave heroine Kelly Macdonald, that-guy-from-Hugo-sans-beard Michael Stuhlbarg, back-from-the-dead Omar Little Michael K. Williams, the haunting Michael Shannon, the even-more-haunting Gretchen Mol, and welcoming cast newbie Bobby Cannavale.
Behind the Camera: Great names like Martin Scorsese, Mark Wahlberg, Terence Winter, and Tim Van Patten. You can't beat that hand.
Synopsis: Atlantic County treasurer Nucky Thompson runs the New Jersey boardwalk, with varying degrees of success (and legitimacy). Nucky controls the crooked cops, the crime rings, the illegal distribution of alcohol… unfortunately, in a business like his, you amount a good sum of enemies.
Where We Left Off Last Season: Nucky had just offed longtime rival and longertime surrogate son Jimmy Darmody; Commodore Kaestner had been killed (by his not-so-surrogate son Jimmy Darmody); Nucky's brother Eli, the sheriff, was placed back firmly back in the treasurer's pocket; new land deals were being made to expand Nucky's control and distribution of alcohol; Det. Van Alden had high-tailed it to Illinois after undergoing some personal and professional difficulties. Additionally, Margaret had explored an extramarital affair with Owen Selater; afterwards, opted to sign some of her and Nucky's property over to the church as a means of seeking forgiveness.
What Might Happen This Season: Many fans have expressed concern that Jimmy's death could mean the end of the show as we know it. From the inception of the program on, Jimmy has served as a chief component of the series' backbone, providing both an emotionally tormented antihero and a rising threat to Boardwalk's main character, Nucky. Now that he's out of the picture, Nucky will seek villainy elsewhere: maybe with Bobby Cannavale's new addition? Plus, Nucky will have to wage his own war between his work life and his home life, as Margaret's disapproval of Nucky's business and her own increase in ruthlessness might pose a greater threat to Buscemi's central figure this year. Additionally, we will likely see a greater exploration of Nucky's relationship with his brethren overseas in Ireland. And are we actually going to get to see Al Capone do something this season?!
Who We'll Miss the Most: Jimmy was a dynamic force for sure, but the real loss can be attributed to the killing off of Aleksa Palladino's deeply depressed Angela. Although her screen time was never extensive, every second Palladino was featured was a treasure for the viewers. Also leaving the show is Season 1's up-on-her-high-horse showgirl/Season 2's tortured unwed mother Lucy Danziger, played by Paz de la Huerta.
Oh, The Places You'll Go: Though largely set on the Atlantic City boardwalk, the show has lent major focus to Chicago and New York City, with an increasingly prominent look at Pittsburgh.
Mood: Can veer pretty dark, especially when brother turns against brother, husband turns against wife, child turns against father… but on the lighter side, there's always Mickey Doyle with a "tasteful" one-liner.
Fan Favorite Characters: Shannon's psychotic Det. Nelson Van Alden, Jack Huston's suicidal World War I veteran Richard Harrow.
Most Cringeworthy Moment: Jimmy Darmody's exploration of an impulse of physical love with his own mother. Don't worry: he's gone now, so that shouldn't be happening anymore. Shudder…
Gore Factor: It is a series about organized crime, and it is on HBO, so you should prepare for some flinch-worthy blood gushers. At least once every two to three weeks, something will incite a disturbed "Augh!" from the viewer.
Attention Span Requirements: Boardwalk does have its fair share of hair-raising shocks and exciting scenes, but the midseason episodes do have the tendency to drag. The slow pace of some of the business-heavy scenes, and the dry nature of the setting and characters will warrant a degree of patience that you have to spend weeks in meditation classes to achieve.
Musical Prowess: The era-appropriate ballads vary from catchy to grating, but the theme song will stick with you through the week.
Educational Benefits of Watching: A history lesson, sort of! Learn about prohibition, about the Jazz Age, about real figures like Arnold Rothstein, Bugsy Siegel, and Al Capone. Of course, it's important to recognize that the show does take liberties before foregoing studies for your next U.S. History test; It is fiction, after all.
Halloween Costume Opportunism: You can put on an old suit and a fedora and call yourself Nucky, but nobody's really going to get it if you don't tell them. Richard Harrow is probably your best bet, although you could easily be mistaken for the Phantom of the Opera. For women, a simple flapper dress from H&M or a consignment store will do. Add a feather for a touch of that stage-girl feel. Maybe forgo mood inducers though. You don't want to end up like Lucy, do you?
Cultural Legacy: Boardwalk Empire is an equal-opportunity debaser, with all depicted cultures and ethnicities earning a criminal limelight: the Irish, Italians, Blacks, Jews, Christians, Germans, Polish, the Dutch… the list goes on.
Water Cooler Standings: The most important question of them all: will you be able to talk about this show with your friends, co-workers, fellow Subway riders? As most of the other big water cooler series, such as Breaking Bad, Game of Thrones, and Mad Men won't be on air this fall, Boardwalk stands as one of the biggest and most "Did you see when…?"-prone dramas of the season. Competitors of course include Homeland and Dexter, but you're bound to have a few pals who don't subscribe to Showtime. As such, Boardwalk is a good bet to prove you're up to date with all things television.
[Photo Credit: HBO]
More: