'Bones' and the Rise of Awesomely Awkward Product Placement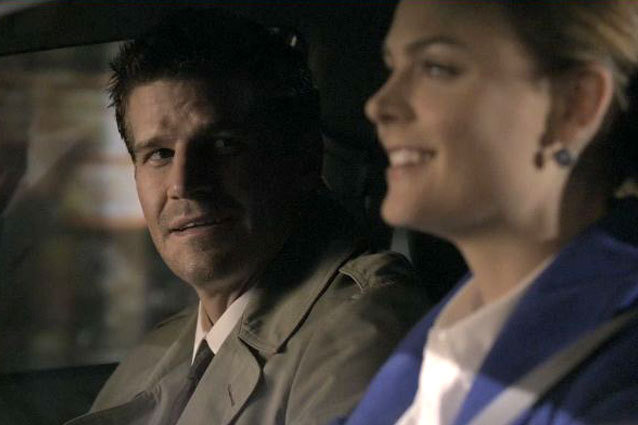 FOX
Fans of the TV show Bones, which returns tonight at at 8 PM ET on Fox, have a love-hate relationship with one of the series' oddest little quirks: approximately four times per season, an episode will stop dead for about 60 seconds while the characters talk enthusiastically about some cool feature or another on the Toyota they're riding in. While some viewers find the in-show ads obnoxiously intrusive, others (including myself), actually appreciate how obnoxiously intrusive they are: by making the ad sections as blatant as possible, the show's producers are implicitly acknowledging how silly the practice is. You can tell that they're uncomfortable with the practice, though: clips of the Toyota scenes that show up on YouTube invariably get pulled almost immediately on copyright infringement claims.
Since the rise of the DVR means many of us hardly ever see commercials anymore, TV shows have gone ever further into this kind of integrated product placement. It's not just about the giant red and white Coca-Cola glasses in front of the American Idol judges anymore, or even things like that recent Project: Runway episode that was a barely-veiled 90-minute commercial for Yoplait's new Greek frozen yogurt. Brands are increasingly making their way into the scripted dramas and sitcoms.
Like Bones, Cougar Town has had season-long relationships with sponsors: for its second season, the critically-acclaimed sitcom's characters quite often found themselves lounging on the patio outside an ostentatiously prominent Subway restaurant. This culminated in a scene between Travis (Dan Byrd) and Laurie (Busy Philipps) in which the teen proclaimed his love for Subway's huge sandwiches and cheap prices. (And yes, that's Community's Danny Pudi, in character as Abed, behind them: this was the punchline of a season-long running gag on the second season of Community.)
After moving to TBS for its fourth season, Cougar Town started a new relationship with Target. Not only did series co-stars Ian Gomez and Josh Hopkins do an in-character commercial for the retailer that aired during every episode, an entire episode featured a subplot in which the perpetually broke Bobby (Brian Van Holt) treats a day inside a 24-hour Target as a miniature spa vacation. Modern Family had already gone to the red-and-white well, setting one storyline of a Christmas episode in a Target where mother and daughter duo Claire (Julie Bowen) and Hayley (Sarah Hyland) were attempting to finish all of the family's holiday shopping in 45 minutes.
The practice has become so widespread that the more self-aware shows have begun mocking themselves for it, such as a memorable break in an episode of 30 Rock where an ad for Snapple shows up in the midst of Liz Lemon (Tina Fey) complaining about the practice of integrated product placement in scripted TV. Others are more relaxed about the concept. On Late Night with Jimmy Fallon, Fey's erstwhile "Weekend Update" co-anchor has revived the practice of occasionally doing live ads at the beginning of his show's commercial breaks. And why not? After all, Johnny Carson did the exact same thing on The Tonight Show 50 years ago. Everything old is new again.
More:
'Modern Family' Season 5 Spoilers
More Badasses to Cast as 'Community' Professors
Great Movie Trilogies
---
From Our Partners


Stars Pose Naked for 'Allure' (Celebuzz)


20 Grisliest TV Deaths of 2012-2013 (Vulture)