Miley Cyrus Is the Real Heisenberg: 'Breaking Bad' Meets the VMAs in This Hilarious Mashup
Two equally chilling events took place at the same time this past Sunday night. One occurred over on AMC during the latest episode of Breaking Bad: in a sleepy cul-de-sac in Albuquerque, New Mexico — DEA Agent Hank Schrader and his kleptomaniac wife Marie glared in terror at their big screen TV, as (spoilers) their brother-in-law Walter White implicated them in a slew of high grade felonies in a video "confession" made specifically to scare them off his tail. Simultaneously, the rest of the country glared at their own television sets with a similar degree of fear, watching a young Miley Cyrus perform the choreographical equivalent of a tire fire at the 2013 MTV Video Music Awards. Both broadcasts occurred between 9 and 10 PM ET both leaving a stamp of horror on all who beheld. Individually, these entities would rattle the bravest warrior to the core. But together, they are good for a healthy chuckle.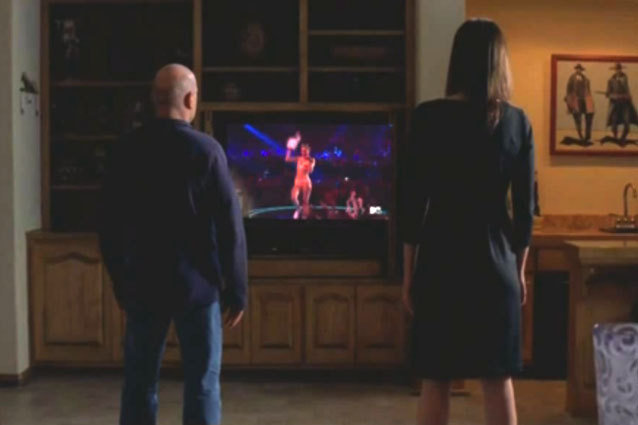 Youtube
An ingenious Breaking Bad fan named Sam Barnett constructed the mash-up, implanting Cyrus' PTSD-inducing performance into Hank and Marie's television. Watching them react to the debacle as they had to Walt's tall tales of Hank's hand in his laundry list of crimes is funny stuff for any devoted fan of Vince Gilligan's drama. Enjoy!
More:
Miley Cyrus Pioneers the Movement to Sexualize Teddy Bears
'Breaking Bad' Recap: Confessions
Katy Perry's 'Roar' Performance Was Awesome
Follow @Michael Arbeiter
| Follow @Hollywood_com
---
From Our Partners


Battle of the Bikini Bodies (Celebuzz)


Fangbanging: Complete Guide to All of 'True Blood's Sex Scenes (Vh1)