'Breaking Pointe' Premiere React: Black Swan Yawn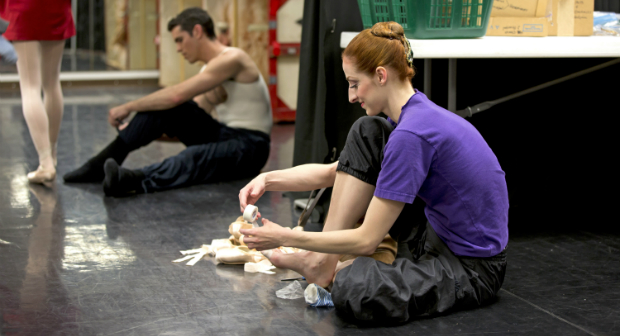 Did anyone else notice that it took Darren Aronofsky's dark vision of Natalie Portman as a red-eyed, dancing CGI swan to get the world to watch a ballet movie? There have been plenty of pointe shoes on film, including my personal favorite Center Stage, yet, the ballet movie has always been a genre that reserves itself for niche crowds. After watching the CW's Breaking Pointe, a docu-series about the inner workings of a Salt Lake City ballet company, it's easy to see why it takes waking nightmares to bring the general public to the practice barre. Real-life ballerinas can be a bit of snooze.
Now, don't get me wrong. The potential for backstabbing and catty comments about how fat each other's ankles are (that is apparently a viable insult on this show) promises a bit of the reality show drama we're craving, but it falls short. Yes, the principle ballerina tries to bring down the bright-eyed and bushy tutu-ed ingenue with a "heartbreaking" insult about how easy it is to be graceful "on fat feet" and one of the "good girls" is cut from the company in the first half hour, leaving her to cry crocodile tears in the company director's office. But the drama just doesn't have that outlandish brand of Winona-Ryder-stark-raving-mad-with-mascara-running-down-her-face rampaging that we'd hope for. Nay. We get twentysomething kids squabbling like they're still living in the land of Sadie Hawkins dances and Trapper-keepers. It's enough to make you actually scream at your poor, exhausted television: "Grow up!"
Still, a docu-series should have more up its sleeves than melodrama: We should learn something. Unfortunately for Breaking Pointe, the series doesn't have much to teach us about the "underbelly" of the notoriously cutthroat profession, because it's, well… notoriously cutthroat. And the series doesn't even have to open our eyes to the terrible things young women say to each other when they're in competition to be the prettiest, most flexible pretty lady because we've got 18 cycles of America's Next Top Model to go on, and those girls know how to backstab, scream, and insult each other better than anyone. 
Without the new, eye-opening revelations or the jaw-dropping oh-no-she-didn't moments, all we've got are the picturesque views of Salt Lake City and the occasional glimpse at some actual ballet — both of which serve as more of a backdrop than anything. And that pretty setting is not enough to rest an entire TV series upon. 
In a summer season full of flaccid reality shows that knock innocent guests into pools of mud or sagas that pimp out a pretty single mom to a line-up of doofuses, it is refreshing that the CW is at least trying to put up something that aims to add a little gravity to the slate. It's just a shame that at the end of the day, I'd actually rather watch Wipeout than these snippy ballerinas. 
Did you watch Breaking Pointe? Did you like it? Sound off in the comments!