'Broadchurch' Was Perfect And We Don't Need An American Remake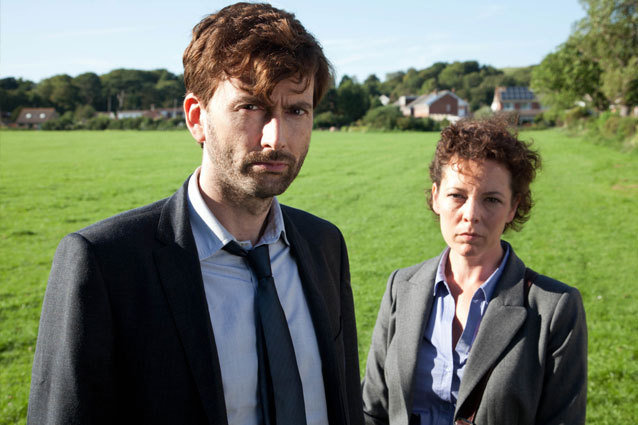 The BBC murder mystery Broadchurch just ended its run on BBC America, earning rave reviews for its depiction of the ripple effects of murder on a small town. It was a great show with some truly standout performances, especially from Doctor Who's David Tennant as a tortured police detective and Olivia Colman as his competent and put-upon partner.
Now FOX is taking Broadchurch and bringing it to America, again, with a remake also starring David Tennant. And the burning question is: why?
Broadchurch was (and maybe still will be, since it was renewed for a second season in the UK) a great show. It took a hard look at the repercussions of a young boy's murder on the small town in which he lived, spending time with his family as well as with the media, police, and handful of sketchy suspects.
What Broadchurch is not, however, is remarkably original. Looking at the above description of the show a host of other "murder in a small town" movies and TV shows come to mind. The weird Twin Peaks, for example. Or the moody but imperfect AMC drama The Killing.
What made Broadchurch work was the economy of the storytelling and the deeply felt performances by the main cast. Remade for American audiences and probably expanded to more than the original run's eight episodes, I can't imagine Broadchurch will seem like anything remarkable to those who aren't familiar with the UK original.
"Oh, another season-long murder mystery in a small town? Great." You can already hear audiences hitting the snooze button. What made Broadchurch a great show didn't lie in its premise, but in its execution.
The American remakes of British originals that work, however, usually work because the American version can spin something new and interesting from a unique premise. Like a documentary about a paper company (The Office) or a vampire, ghost, and werewolf living together (Being Human).
The first season of Broadchurch was a perfectly paced, self-contained story with a far from unique premise. Replanting the story to America and giving it more episodes to fill isn't likely to make the show any better. For every successful American remake, there are at least five British to American disasters. Let's hope Broadchurch isn't one of those disaster adaptations, but even if the FOX version turns out to be good, it certainly doesn't feel like a remake that needed to happen.
What do you think? Are you excited about the American remake of Broadchurch or scratching your head about why FOX is remaking it at all? Share in the comments!
More:
David Tennant Brings His 'Broadchurch' Detective To The American Reboot
Hollywood's Case of Anglophilia
David Tennant Returning For 'Doctor Who' Anniversary Special
---
From Our Partners:


40 Most Revealing See- Through Red Carpet Looks (Vh1)


15 Stars Share Secrets of their Sex Lives (Celebuzz)