'Brooklyn Nine-Nine' Recap: Andre Braugher Steals the Show In 'M.E. Time'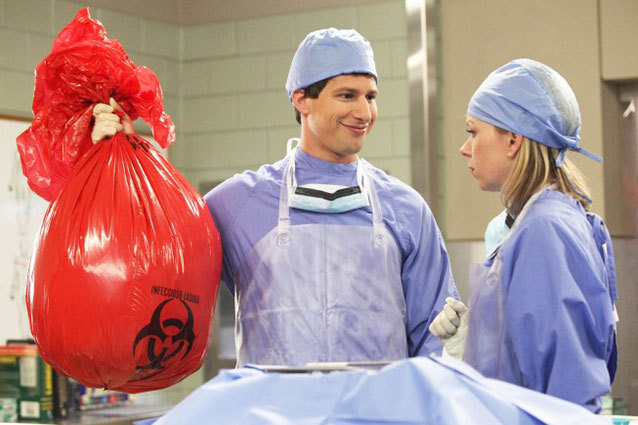 FOX
The main question that the fourth episode of Brooklyn Nine-Nine raises is why it took so long to give Andre Braugher a starring role on a comedy series. With an impeccable deadpan delivery and brilliant timing, Braugher easily stole the show, and made Holt the show's funniest character. The running joke of "M.E. Time" is that Holt is impossible to read, which is frustrating to all of the officers in the precinct. When they think he's had a rough weekend, he's ecstactic, and when he appears happy, he turns out to be devastated. It's a testament to Braugher's skill that he manages to not only deliver "I spent the weekend in Barbados with my husband" and "There was a small fire in my house" in the exact same manner, but that he also makes the joke funnier each time it's repeated. 
Santiago (Melissa Fumero) is still on a quest to make Holt her mentor, and so she desperately tries to impress him by recruiting Sgt. Jeffords (Terry Crews) to fill in for the sketch artist so she can turn in her reports early. When that fails to do the trick, she gets him to paint a portrait of Holt for him to hang in his office. Santiago and Jeffords are an unexpected pairing, but her quiet desperation perfectly matches his frustrated outbursts, and the two make the best odd couple this side of Holt and Peralta. It would be nice, though, to see Santiago doing something other than simply following around the captain, and hopefully his approval of her hard work and growing number of closed cases will lead to new plotlines for the character. Jeffords, meanwhile, is once again played magnificently by Crews, and if Braugher hadn't had such a strong week, would have definitely been the highlight the second he ordered that Scully bring him his oils. 
Peralta (Andy Samberg), meanwhile, is freed from the watchful eye of Holt this week, but is assigned to be the secondary on Boyle's (Joe Lo Truglio) case. The only problem is that he's the worst secondary in the world, and spends most of his time at the crime scene making fat jokes about the extremely overweight victim and walking all over Boyle. As if that weren't enough, he starts sleeping with the medical examiner (Mary Elizabeth Ellis), which essentially causes the investigation to grind to a halt due to the two playing "sexy coroner" instead of performing a crucial autopsy. Ellis and Samberg have wonderful chemistry, and their scenes together are the perfect blend of goofy and uncomfortable — him lying on the bedroom floor while she tries to determine a "cause of death" was a particular highlight — but Peralta's jerky behavior outweighed the charm that the character usually has. 
On the other hand, it was wonderful to watch Boyle grow in confidence throughout the episode, and his quick and competent solving of the case was needed to save him from being a complete caricature. It would be nice to see some of that competence from Peralta, whose ego and manic energy is starting to overwhelm the character. Perhaps he just needs a more serious character like Holt to reign him in, but without an immovable object to ground his unstoppable force, Peralta is one of the show's weaker elements. 
Overall, "M.E. Time" was the strongest episode thus far, and helps prove that Brooklyn Nine-Nine is well on its way to being a great sitcom. It seems as if Mike Schur and Dan Goor, the show's creators, have learned a lot from the uneven nature of the first season of Parks and Recreation, and once some of the kinks have been worked out, Brooklyn Nine-Nine will hopefully join it as one of the funniest shows around. 
Episode Highlights
– Holt, to Scully: "Scully, you can just write 'I didn't close any' on a piece of paper." Scully is essentially the Jerry Gergich of the precinct. 
– In a flashback, Peralta "backseat interrogates" Santiago's witness, getting so worked up he breaks the glass. 
– Boyle sings and acts out the score from Oliver in the car on the way to the crime scene. 
– Jeffords, before starting to sketch a suspect: "Let's start with the eyes. Were they desperate? Lonely? Did they betray heartache?" "They were brown." 
– Holt believes that the only people who hang baroque oil paintings of themselves are North Korean dictators. (He's probably not wrong.)
– After the victim's wife describes her late husband as "a real Don Juan," Peralta asks permission to make a fat joke, and then comes out with, "Are you sure you don't mean Don Flan?" 
More: 
'Brooklyn Nine Nine' Recap: Episode 3, 'The Slump'
'How I Met Your Mother' Recap: Say Goodbye to The Bro Code
Andy Samberg Is Bringing British Comedy 'Cuckoo' To NBC
---
From Our Partners:


A Complete History Of Twerking (1993-2013) (Vh1)


20 Grisliest TV Deaths of 2012-2013 (Vulture)