'Brooklyn Nine-Nine' Recap: 'The Vulture' Finally Fixes the Peralta Problem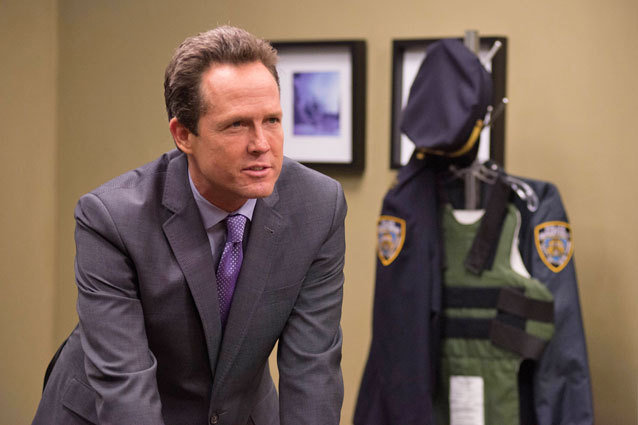 FOX
Andy Samberg has thus far been the most divisive aspect of Brooklyn Nine-Nine. While some people feel that Jake Peralta is his funniest and most likeable character yet, other think that the show should be reworked with a different lead. Whichever side you're on, the show's fifth episode was bound to please, as it finally solved the Peralta problem simply by bringing all of the detectives together on a heated quest to destroy The Vulture — also known as Major Crimes' Detective Pembroke. 
The Vulture gets his name from his habit of swopping in on mostly-solved cases, finishing them, and then taking all of the credit, and he's back this time to take on Peralta's murder case. Peralta's been refusing to accept any help from any of his co-workers, despite Holt's constant urging, in order to solve it on his own and take all of the credit. However, just as he finally gets a break — courtesy of Diaz, who recognizes that the wounds might have been caused by a corkscrew, and not a knife — The Vulture arrives to take over and bask in the glory. Played magnificently by Dean Winters, channeling everything we loved to hate about 30 Rock's Dennis Duffy, Beeper King, Pembroke makes a perfect foil to Peralta, and the rage his presence instills in all of the officers is a delight. 
But Peralta isn't happy to be kicked off of his case, and he, Santiago (Melissa Fumero), Diaz (Stephanie Beatriz),  and Boyle (Joe Lo Truglio) go out for drinks in order to plan an epic prank, and end up deciding to solve the case before The Vulture gets to it. The strength of Brooklyn Nine-Nine is really its ensemble of weird, driven characters, and by forcing so many of them together this week, it feels like the show may have found the ideal way to let the supporting characters shine while still balancing out Peralta's wacky hijinks. It's good to see the show finally taking advantage of the "workplace" aspect of being a workplace comedy, as it benefits all of the characters. Santiago finally gets to have a plot that doesn't solely revolve around impressing the captain, and the audience gets to learn more about Diaz, who is the show's most underdeveloped character. It was also great to see Boyle finally be treated like part of the team, rather than just being the guy everyone walks all over. By the time they're digging in the garbage chute to find the missing murder weapon, it finally feels like the show has found its footing. 
Meanwhile, Captain Holt has decided that it's time for Sgt. Jeffords to return to the field, and so he concocts a plan to trick him into being re-certified to carry a gun by asking Jeffords to give him and Gina a shooting lesson. However, once Jeffords realizes what is really going on, he's no longer able to shoot, and Terry Crews once again gets to steal the episode by stalling for time in the most ridiculous ways possible. Brooklyn Nine-Nine serves up another unusual pairing that nonetheless works perfectly in Gina and Holt. Where Holt is calm, encouraging, and later frustrated, Gina is obnoxious, distracting and flirtatious. Andre Braugher and Chelsea Peretti have very different styles and delivery, but they play off each other so well that we can't help but hope for many more Gina-and-Holt plots in the future. 
Episode Highlights: 
– Samberg finally gets to show off some of his excellent physical comedy with a very slow, spiteful walk back to his desk. 
– The Vulture swoops in and steals Boyle's coffee, which is even more disappointing because Charles used a gift card to pay for it.
– Sgt. Jeffords, freaking out in the gun range: "How do you breathe? Is it two in, one out?"
– Boyle's revenge plans include breaking into The Vulture's apartment to burn popcorn in the microwave, replacing all of his aloe tissues with regular tissues and saran wrapping his motorcycle
– Gina answers the phone with "Gina's Authentic Stolen Police Badges, how may I help you?" She also keeps a hair dryer in her purse because she's "not an animal," and her dance troupe is called "Floorgasm." Gina is the best. 
– Boyle finally proves that he has broad shoulders by getting stuck in the garbage chute.
– One of Peralta's alter egos is "Dr. Jacob Peralta, who has a PhD is Slow Jam Studies from Funktown University."
– Pembroke: "Stay foxy." Santiago: "Die Lonely."