'Bros' Creator Talks New Trailer, Future of Web Series, and Where 'Girls' Got It Wrong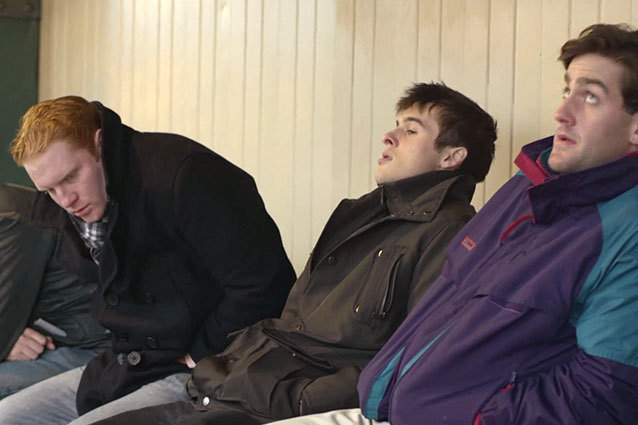 It may be "a show no one asked for," but new Internet series Bros is going to smack you in the face with the same saucy ingredients that makes Girls so lovable: honest one-liners, shaky relationships, and a unique kind of rawness among twentysomething friends. The kind of rawness everyone seems to relate to, in one way or another. The Girls parody finds a smart — and quite hilarious — way to illustrate a world where guys call their dads "bro," work out in subway cars, experiment with odd fashion, and ultimately struggle to make a living in New York City. Though they're blessed with all the cheap beer and "chicks" Murray Hill can offer, these dudes are still attempting to figure out how to act, thrive, and just plain be without steady jobs or any true accomplishments — unless you count being in the top one thousand on Call of Duty a victory (which, apparently, many do). We also get some solid advice, like the type of outfit that will "get" Williamsburg girls, how to escape a shady texting trap (trick: tell her you love her), and what it is exactly bros talk about behind the closed doors of their frat-like apartments.
Anthony DiMieri, the creator and director of the series, didn't start getting familiar with Girls until around the middle of the first season, when his friend said he reminded her of one of the characters. "In retrospect, I guess she was referring to the lame boyfriend," he said. After binge-watching the entire series, the idea just dawned on him. "I knew there would be an audience, so I spent all of my money producing the trailer and the first episode." As DiMieri began writing the script, he looked at the friends around him for inspiration. "A friend of mine, a very real-life bro, once told me that he thinks he's going to marry a girl that hates him. And that really struck me," he said. If the series extends, DiMieri hopes to examine bros on a more psychological level. For starters: "I think the whole bro mentality has to do with daddy issues." But he'll get into that more down the road.
DiMieri, who doesn't quite consider himself a bro, but instead, a "broster" (a combination of bro and hipster), realized what Girls was seriously lacking: a true depiction of NYC nightlife. "I don't think Lena Dunham got it when she did the coke episode at Greenhouse. It's like, Greenhouse doesn't look like that." What Bros will tap into is the Meatpacking bottle service scene, as well as what goes down in the dub step world at venues such as Webster Hall.
As far as mirroring the much-beloved Girls characters, DiMieri explains that aside from the central throughline of one bro searching for a job, it's more the larger concept that draws parallels. "We're focusing more on the generation and situations of a post-college life. You're sort of an adult and you live in the city, but bros still act like they're in college." — he said it, not me — "Sometimes they have money to do things because they actually have a job, sometimes they don't." But DiMieri does wish he had more time to develop the characters, like Girls is able to do. With only around five minutes per episode (as opposed to Girls' 30), "the characters are more cartoonish. So, there probably won't be as many tears or major dramatic moments." In fact, the most dramatic moment we're going to get is when a bro gets caught snapchatting. "We really what to illustrate what relationships look like from a bro's perspective, because they mostly operate like they're at a seventh grade dance."
Each episode will be around five minutes, providing just enough snark, beer chugging and bro-ness to keep us interested, rather than revolted. But so far, the team's only got its first episode, titled "Williamsburg," set to air. According to DiMieri, there's a laundry list of ideas ready for production as soon as more money comes through. Working with the Bros' production "dream team", including DP Mike Berlucchi and camera operator Jason Ano, DiMieri wishes he could quit his day job to work on creating additional episodes.
But bro-ness and bro-dom aside, there is heart and soul at the core of this web series. There are subway kisses (between men!). And feelings. And real, albeit immature, love. And if the trailer is any indication of what the series will be like, Bros may have just mastered girls better than Girls.
Follow Anna on Twitter @thebrandedgirl
---
From Our Partners:
Justin Bieber Drug and Cheating Rumors?! (Vh1)