'Bunheads' Finale Recap and Sutton Foster Talks 'Gilmore Girls' Comparisons — Video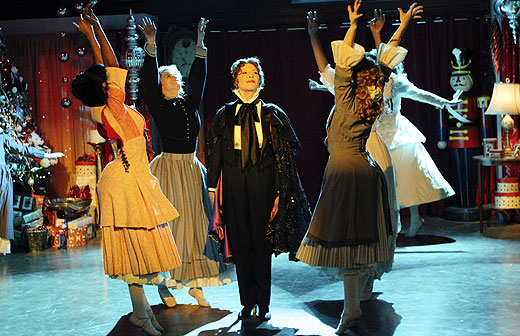 Bunheads has been tugging on our Gilmore-loving heartstrings all summer and last night's finale was definitely no exception. From a Toe Terminator, to jukebox kisses, to a mace-accident, "A Nutcracker in Paradise" was one of the cutest finales we've seen in a while.
It's sad to say we won't be seeing our favorite ballerinas for at least four months, but don't get your tutus in a twist just yet! We've got an exclusive video with the one and only Sutton Foster to help curb your taffeta cravings. But first let's recap shall we?
Fanny (Kelly Bishop) is gearing up for her biggest production of the year, the grand performance of The Nutcracker—in July. Oh Paradise, you quirky little town! Although Fanny has reminded Michelle (Foster) 12,064 times that this performance is where most of her salary comes from, she is still worried that Michelle's evil mice number will be sub-par.
But of course it's not. Michelle put a modern spin on the number and traded in Wall Street bankers in lieu of mice. She also brought in a familiar face for their MIA Clara. Yup, it's Sasha (Julia Goldani-Telles). The rebellious cheerleader traded in her pom-poms, laced up her slippers, gives a brilliant performance and everyone is absolutely overjoyed.
That is until "The Ringer" shows up. When Sasha quit, Fanny hired a replacement ballerina to fill her place. The only problem is this girl is good, like scary good. Michelle explains it best, "If Marvel comics had a crime-fighting ballerina, this ballerina would kick that ballerina's ass." And oddly terrified Fanny tells Sasha that she has to be the one reveal that robo-ballerina will no longer be playing Clara. The ringer literally dances circles around Sasha and says she'll only stop after the curtain drops.
Meanwhile at the ballet fundraiser, Fanny is having a squabble with her boyfriend about Montana. Random we know. Earlier in the episode, Fanny had decided to rent a cabin in "The Treasure State" for a few months and asked a delighted Michelle to take over the studio while she was away. However, now she learned that Michael was planning on moving there all along, with or without Fanny. Once again it's Michelle to the rescue and she tells Michael about Fanny's Montana mission and all seems well at the end of the night. Oh and did we mention that Michelle has a full on, kinda random, make-out session in front of the jukebox with the cute bartender? No? Welp, that happened too.
Fast-forward to the night of the premiere, we finally get to see Fanny dance on stage, and although her performance wasn't earth shattering, her cape was pretty fierce. The girls lined up backstage for a quick last minute hair spritz, but when Michelle reached into her "zombie-apocalypse-Vegas-slut bag" she accidently sprayed the tweens with mace. Not ideal. Now the girls are stumbling and fumbling onstage, and the ringer takes this opportunity to steal the spotlight.
In the hospital, an outraged Fanny informs Michelle that she had to cancel the next two weeks of performances and that Michael left that morning. After learning that Michelle was the reason for her boyfriend's disappearance, Fanny blames all of her bad luck on her kinda/sorta daughter-in-law. Cue another dream sequence, in which Michelle is singing "Maybe This Time" from Cabaret in front of the director, aka Hubbell. She talks to Hubbell about all the problems she has caused and how much she misses him. She asks him if it would have worked out and he kisses her hand before she walks up.
Michelle walks into the hospital hallway to see an irate group of parents yelling at Fanny to fire the woman who maced their girls. As Michelle heads for the exit, Sasha stands on her chair in an act of loyalty exclaiming, "Oh captain, my captain!" Boo, Mel, Ginny and the other ballerinas follow suit and a very touched Michelle thanks them and then turns to leave.
Now that you're all caught up to speed, check out our exclusive chat below with Bunheads' leading lady. Foster gushes about the fast-talking freshman drama saying, "I've just fallen in love with the show, I feel like I'm having the time of my life." Plus find out who Foster "totally fan-girled" over when she signed on for the show.
Bunheads will return to ABC Family this winter will brand-new episodes.
Follow Leanne on Twitter @LeanneAguilera
[Photo Credit: ABC Family]
MORE:
ABC Family Ups Original Series Cred: Keeps 'Bunheads' & More, Cancels 'Jane by Design'
'Pretty Little Liars' Recap: Cabin in the Woods
'Pretty Little Liars' Premiere Recap: Pretty Little Haircuts