'Bunheads' Star Sutton Foster on the Season 1 Finale and Bringing Rory Gilmore to Paradise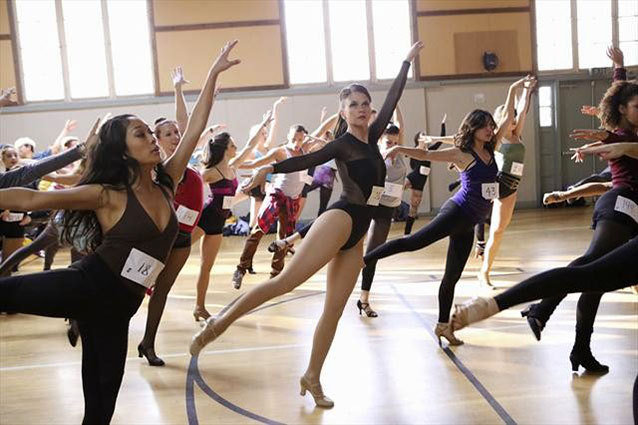 You know that feeling you get when you take the first bite of a warm, homemade, chocolate chip cookie? The one where you're body gets all tingly and happy because you're reminded of home and your childhood and life's simple pleasures? Well, that's the exact same feeling you'll get when watching the Season 1 finale of ABC Family's excellent dramedy, Bunheads.
After 17 episodes of fast-paced, body-twirling fun, it's time for ABC Family fans to lace up their slippers and put on their tutus for the last time this winter. The Season 1 finale, "Next!," takes Michele to a magical and far off place — a.k.a. Los Angeles — to see if she still has what it takes to audition for a Broadway show.
RELATED: 'Bunheads' Siblings Sutton Foster And Hunter Foster Bond On Screen And Off
To get you excited for all the heartwarming moments, Hollywood.com chatted with Bunheads leading lady Sutton Foster about tonight's anxiety-filled episode and plans for more Gilmore Girls crossovers.
"In the winter finale we actually see Michelle go on a full-on cattle call audition for a Broadway show, and she's testing the waters to see if she wants to keep pursuing that dream," Sutton says. "It's actually pretty cool because they do it very authentically about what a cattle call would be."
The episode will make your stomach churn and knees shake just like a real audition would. But in true Bunheads fashion, Michelle is not the only girl to make the drive all the way to Los Angeles — the girls follow her too! Boo, Sasha, Ginny, and Melanie all make the drive to Hollywood on an impromptu road trip and witness their teacher's entire audition. They even decide to get in on the action as well.
RELATED: 'Bunheads' Casts Sutton Foster's Mother — Exclusive
Foster says shooting the episode brought forth many déjà vu experiences from her auditioning days on Broadway. "There were 200 dancers in a room and I was one of them, and it was actually giving me anxiety because that's what I used to do," she says. "I used to go on giant cattle call auditions, and all of the sudden I was back in that room and I was like, 'Oh God! Oh god! It's giving me anxiety!'"
This wasn't the first time the actress' emotions have overwhelmed her on set. An admittedly huge Gilmore Girls fan, Foster says working with Liza Weil brought forth an overwhelming amount of Stars Hallow nostalgia. "She freaked me out the first time she was on!" Sutton says. "Same with working with Sean Gunn… It kind of throws you off because these are people that you've fallen in love with and now you're acting with them. Liza is awesome and now we've actually become friends, so that's freaky. It's like 'Oh my gosh! I can't believe I'm friends with Paris Geller!'"
RELATED: 'Bunheads' Finale Recap And Sutton Foster Talks 'gilmore Girls' Comparisons — Video
Now that we've seen a plethora of Gilmore Girls vets make their debuts in Paradise, who's next? Sutton is crossing her fingers for Lorelai or Rory. "Well it would be awesome to work with Lauren [Graham] or if Alexis [Bledel] came that would be so cool," Foster says. "Even Sally Struthers, she would fit in so well in the Paradise family — she'd be such a crazy character. Anyone from Gilmore Girls is welcome in Paradise."
What about a "where are they now"-type episode, with Rory Gilmore passing through town as a full-fledged journalist? "That would be so cool! That would be really really neat, like if she came in to do a story or something," Foster says. "Oh, I'm going to have to talk to [Creator] Amy [Sherman-Palladio] about this!" Fingers crossed our big idea makes it to the small screen if Bunheads is renewed!
You can catch the Season 1 finale of Bunheads on Monday, Feb. 25 at 9PM on ABC Family.
Which Gilmore Girls star would you like to see on Bunheads? Are you keeping your fingers crossed that the show is renewed? 
Follow Leanne on Twitter @LeanneAguilera
[Photo Credit: ABC Family]
---
From Our Partners:


25 Most Scandalous Celeb Twitpics (Vh1)


33 Child Stars: Where Are They Now? (Celebuzz)