Farewell to Cal Worthington, a California TV Institution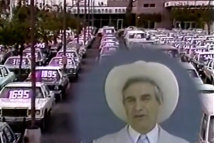 Youtube
If you've watched TV in southern California for more than five minutes since the 1950s, you've probably seen one of Cal Worthington's ads. The Oklahoma-born car salesman, who died on Sunday, September 8, at 92, was a staple of the southern California airwaves.
His motor-mouthed pitches, combined with a total earworm of a jingle ("Go see Cal, go see Cal, go see Cal!") and the recurring gag of a wide variety of wild animals — from a tiger to Shamu the killer whale — that he introduced as "my dog Spot," became so ingrained in the local culture that he became something of a meme. Worthington's commercials appeared in movies ranging from Jack Lemmon's midlife crisis drama Save the Tiger to the John Landis caper Into the Night, and crop up in Thomas Pynchon's early '70s detective-novel pastiche Inherent Vice, now being filmed by Paul Thomas Anderson. With his signature white cowboy hat and genial good-ol'-boy demeanor, he even appeared several times on Johnny Carson's Tonight Show in the 1970s and '80s. How many local TV commercial pitchmen could say that?
For one of his most famous ads, Cal — a WWII pilot who kept flying after the war — strapped himself standing upright onto the wing of a vintage biplane which then flew upside down: that insane stunt was so popular that footage from that 1960s ad was still being used in commercials two decades later.
Though Worthington stopped doing the "My Dog Spot" ads in the 1980s, his more recent ads still used nostalgic clips from them. Remember, camels are always a guaranteed laugh.
So are sea lions. (You can tell it's a sea lion and not a seal because it has ears.) Also: holy crap, 1980s cars were ugly.
And finally, if you really want to get that insidious jingle wedged into your head, check out this full-length version set to various clips from vintage Cal commercials. By the way, many folks claim that they've always heard the "Go see Cal!" hook as "pussycow." I think they just like saying "pussycow." Can't really blame 'em for that. Pussycow! [Ed. note: it even inspired a raucous and popular L.A. band!]
More:
Prince Harry is Not Impressed
The Craziest Fan Armies
Mediocre Movies With Rockin' Soundtracks
---
From Our Partners


Stars Pose Naked for 'Allure' (Celebuzz)


20 Grisliest TV Deaths of 2012-2013 (Vulture)