CBS and Stephen Colbert Should Pay Attention to Rush Limbaugh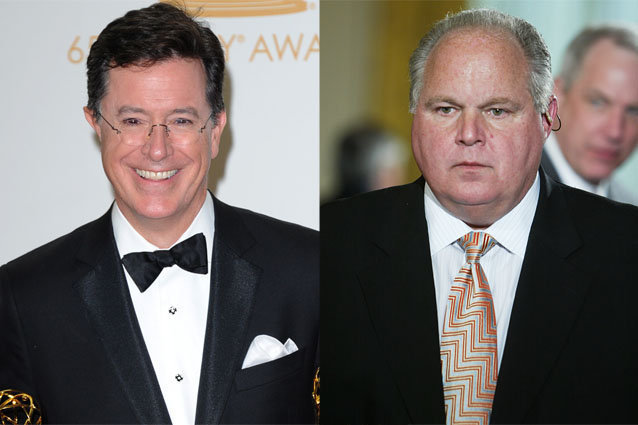 WENN.com/WENN.com
Almost immediately after CBS announced that Stephen Colbert would take over The Late Show desk from David Letterman, the conservative pundits that he has mocked during his run on Comedy Central voiced their displeasure.
Bill O'Reilly, whose Fox News show The O'Reilly Factor provided the pulp of inspiration for The Colbert Report, has unceasingly railed against his tormentor being given a bigger stage. That's understandable since O'Reilly and Colbert have been going back and forth for years. What should be more worrisome for CBS is the attack by radio host Rush Limbaugh.
Never a fan of Colbert or his former boss Jon Stewart, Limbaugh vocalized the following sentiments on his show: "CBS has just declared war on the heart of America. No longer is comedy going to be a covert assault on traditional American values. No it's just wide out in the open."
It's easy to discount Limbaugh since he's been hammering home his conservative views for decades and his overall influence has eroded since he called women's rights advocate Sandra Fluke a "slut." It's that reason that many have given for writing him off in this case. The issue with that is that CBS, while having a strong primetime lineup, has the oldest viewership of any of the networks, with a median age of around 58. The Eye is more vunerable to an attack by Limbaugh — with his older, conservative, and Middle American audience — than just about any other broadcaster. 
By hiring Colbert, CBS is trying to split the difference. He's younger than the person that he's replacing, but he's not so young (Colbert is 49) that it's a jarring difference. The demographics on the comedian's Comedy Central show also skew significantly younger than even that of the outspoken liberal Letterman. Advertisers looking to reach older audiences already go to CBS… now the network is trying to draw in more of the coveted 18-49 group. But, it also seems clear that the network made the move with the idea of not alienating its core audience. That's where Limbaugh firing off about the hiring can be a problem.
Both the network and Colbert have been very clear so far that the comedian won't be doing his right-wing character when he takes over The Late Show. Making sure that everyone from Tuscaloosa to Boise to Spokane understands that should be the focus of CBS' efforts between now and when Colbert takes the reins.
Colbert needs to stay visible and start to establish his out-of-character persona as well. By the time he takes over, CBS' audience — significantly broader than Comedy Central's — needs to be able to make a clear distinction between the work that he has done and what he will be doing on network late night.
There are a number of ways to accomplish that, from Jimmy Fallon's strategy of posting everything online to Jay Leno's old trick of showing up at affiliates' events, making appearances on local news shows, and glad-handing everyone.
Straddling the line between older viewers and potential new ones, CBS has to be aggressive in making sure that they don't lose the audience that they already have. They're not the number one broadcast network by accident. Limbaugh's over-the-top tirades can be countered, but what they shouldn't be is ignored.