CBS Upfronts: Preview Their New Fall Shows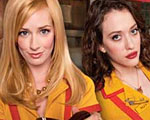 CBS has the fewest new shows coming this fall and why screw around when you're number one? They're already an incredible ratings juggernaut, so most of their five new shows run along the lines of your basic CBS series. We've got cop shows with gifted officers, medical dramas with a supernatural feel, and comedies that are, well, they look like comedies. Check out the videos below to find out what your parents will be asking if you've seen in about two years.
And while you're at it, check out our previews for ABC, NBC, and FOX.
Two Broke Girls
Starring: Kat Dennings, Beth Behrs
Basics: Two waitresses from two different sides of the tracks: one is blue collar, working her whole life while the other is a former heiress who has never worked a day in her life. They meet at their job and begin scheming to open their own restaurant.
Potential: Maybe
Why: This show comes from Michael Patrick King (Sex and the City) and comedienne Whitney Cummings. Even though Cummings has her own show on NBC that looks terrible, this show seems to have more of her voice. Kat Dennings is a fantastic actress, though how she'll handle a traditional sitcom remains to be seen. This could be a great female sitcom or it could be like other CBS sitcoms and waste oxygen. We'll have to see.
How to Be a Gentleman
Starring: David Hornsby, Kevin Dillon
Basics: An uptight magazine columnist reunites with his slobbish high school friend.
Potential: Probably, despite the premise
Why: Notice a theme with CBS's new comedies? Pairing up odd couples? It's not exactly the newest concept ever, but the talent behind this show is quite impressive, Kevin Dillon withstanding. Hornsby is a writer for It's Always Sunny in Philadelphia so he brings a bit of anarchy to a very rigid CBS and Rhys Darby was the breakout star of Flight of the Conchords. It's got potential, let's see how it does.
Unforgettable
Starring: Poppy Montgomery, Dylan Walsh
Basics: A police officer has near-perfect memory and uses her disorder to help solve crimes. Except the one that haunts her memory.
Potential: No.
Why: It's the millionth crime procedural about an officer with a supernatural gift, and this one was at one point called The Rememberer, so that should tell you something about it. While it does have a somewhat interesting premise, it will undoubtedly get lost in the horrible exposition dialogue and terrible acting. Yet it will have higher ratings than Community, Mad Men, and Breaking Bad combined.
A Gifted Man
Starring: Patrick Wilson, Jennifer Ehle
Basics: A doctor is haunted by the ghost of his ex-wife who wants him to help her achieve a sense of closure.
Potential: Nope.
Why: It's about a doctor. Who sees a ghost. Of his ex-wife. Absolutely not, no matter how many Oscars the people behind the show have (which is a surprising amount).
Person of Interest
Starring: Michael Emerson, Jim Caviezel
Basics: An eccentric billionaire has somehow found a way to predict if a person will be involved in a violent crime. So he hires a rogue former CIA agent, long thought to be dead, to do the dirty (but justified!) work for him.
Potential: Oh, please let it be good
Why: The show comes from J.J. Abrams (squeal!) and re-teams him with the best actor from Lost, Michael Emerson. That alone would get me to watch, but Jonathan Nolan (yes, the brother of Christopher Nolan and his frequent writing collaborator) scripted the pilot. So, we have a great cast, great team behind the show, and an intriguing premise. Please don't screw this up, CBS.