'Celebrity Apprentice': Dennis Rodman Insults Melania Trump, and 6 Other Ridiculous Moments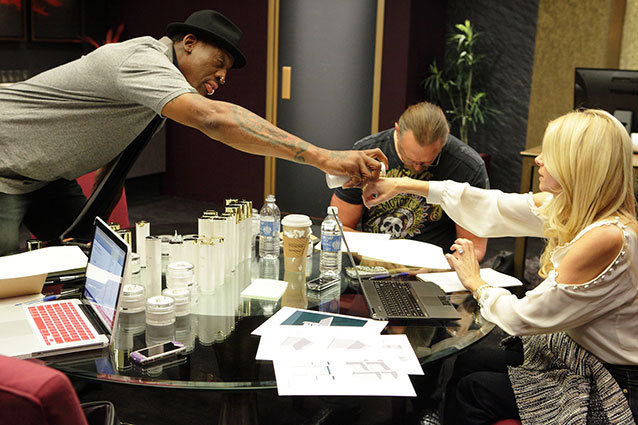 Something smell fishy? No, I'm not just talking about Melania Trump's Caviar Complexe skin care line, which our D-listers were forced to create a 60-minute advertisement for Sunday night. I'm talking about the fact that Dennis Rodman — the Celebrity Apprentice star who looks like he wandered out of a TLC series — was chosen to be Project Manager for the show's 60-minute advertisement for Melania Trump's Caviar Complexe skin care line. In just two weeks — in two abridged one-hour segments — Celebrity Apprentice rid its cast of the two most drama-producing stars, Omarosa and Dennis. And, with Penn Jillette picking up his first Project Manager win and bored cowboy Trace Adkins narrowly escaping elimination, it seems the reality show has come to the point in the series when it pretends it has hired stars that actually harbor a modicum of business savvy. So, essentially, the point in the series that's about as interesting as an endless loop of Ready For Love advertisements.
Thank god we still have Busey. But before we actually start caring about who should reel in the Celebrity Apprentice win this season, we have bigger fish to fry — read on for the seven most ridiculous moments of Sunday's Celebrity Apprentice!
RELATED: 'Celeb Apprentice': Dennis Is Actually a Modern Artist
7. Melania's a Big Fish
Which is precisely why Mrs. Trump opted to use little fish eggs in her skin care line, which she claimed to be researching for 10 years. (If, of course, by "researching" skin care products, she meant simply "using" skin care products, expect my heavily "researched" line of peanut-butte-served-on-spoon to hit stands soon.) Also, it didn't hurt that caviar only manages to further the Trump mission to thurst opulence at American consumers. (Trust me, I didn't like using "Trump" and "thrust" in the same sentence any more than you liked reading it.) Next up for Melania: Toothbrushes with bristles made from black American Express cards, Bubble bath soaked in pieces of water polo horse, and Tru Blood serum made with real bits of Eric Trump. 
6. Gary Busey's Day Off
At least, it seemed Busey wasn't quite present during Sunday's episode — and, for once, we're not referring to his state of mind. But just as I began to write in my notes that the episode, like all television programs, didn't feature enough Busey, the Oscar-nominated actor popped up to pitch himself as a spokesman for Melania's line, claiming he could sell the product to "men homosexual and heterosexual." His catchphrase of choice, "This is no longer a secret weapon. It is now a secret miracle," also happens to be the exact phrase reality TV producers use to describe Busey himself. 
RELATED: 'Celeb Apprentice': Dennis Cures Homelessness
5. James Bond and Caviar Go Together Like James Bond and Casual Friday
Still, that didn't stop Project Manager Dennis to pitch an ad concept involving 007 and caviar, which he claimed was seen in every James Bond film. 
4. "Be very promiscuous with your caviar."
Best line from Dr. No, bar none.
3. "I give us all half stars."
The most apt quote of the night came from Dennis, who refused to give one single team member a star for their work in the boardroom. Instead, Brande, Trace, Lil Jon, and Dennis were rewarded with a half star, which means, collectively, Team Power's four D-list all-stars are equivalent to two stars. Congratulations, Dennis, for being unintentionally self-aware!
RELATED: 'Celeb Apprentice': Omarosa and LaToya's Fight
2. The Continued Existence of Eric Trump
Though it's impossible to not pity the enormous vampire Trump when Dad balks at Dennis' insult of Melania (see No. 1), but fails to even mention Penn calling Eric a "disruptive force." We know now why you cry, poor, sad, enormous vampire.   
1. Who is Milania?
One of the most heinous children to ever appear on television (sorry, King Joffrey — you are not quite the best at being the worst), but definitely not Donald Trump's wife. (That is, not until the young Real Housewives of New Jersey star is old enough to compete in Miss USA.) But rather than double-checking their spelling, Celebrity Apprentice's Team Power managed to incorrectly label Melania Trump "Milania" in their promotional materials. More ridiculous than Dennis' claim that Penn's incorrect labeling of Melania as the skin care line's "spokesperson" was worse than the misspelling, was the fact that Stephen Baldwin was the first to notice the error… claiming the correct spelling was "Malania." (Just a regular Saoirse Ronan, this Melania is!) Eventually, though Trace designed the posters, Dennis' oversight and Trump's incessant need to make Trace like him was enough to cut the basketball star loose. "Hate to lose him," Trump said as Dennis exited out the door. And since we're talking about a reality star who spent his first Celebrity Apprentice season sleeping, and his second asking Mrs. Trump if he could rifle through her bathroom, so do we, Trump.  
[Image Credit: Douglas Gorenstein/NBC]
---
From Our Partners


Jessica Alba Bikinis in St. Barts (Celebuzz)


Pics of The Rock Making Things Look Small (Vulture)