'Celebrity Apprentice': Gary Busey Gets Away With Murder and 7 Other Ridiculous Moments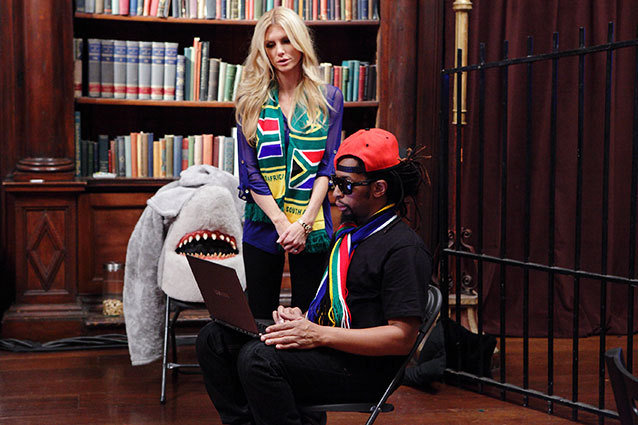 Sunday night's episode of Celebrity Apprentice featured the return of Bret Michaels, Gary Busey's singing debut, and sharks, yet it managed to still be the most boring 120 minutes in All-Stars history. And, surprisingly, we can thank the human set of teeth himself for the episode's lack of bite. For, you see, Gary is reality TV's ice cream sundae — a treat that, in moderation, is an undeniably delicious addition to dinner. But sprinkle a few too many ice cream sundaes into your diet, and you begin to wish you never asked for an ice cream sundae in the first place, especially one that's laced with peyote.
Because, let's face it: Celebrity Apprentice All-Stars might as well be renamed Watch Gary Busey Lure Everyone Into a False Sense of Security Before Eating Them. We've barely become acquainted with the quirks of the rest of our all-stars — and why would we, when Gary steals airtime roving around half-naked? (That said, he does inspire such moments as winning Project Manager Penn Jillette wondering what it would be like to French kiss Gary: "There's four inches of teeth until you get to actual mouth."
But the biggest reason the episode went south was because the challenge literally went South — to South Africa. Our celebrities were tasked with creating an interactive travel expo to raise awareness about the country centered on two themes: adventure and romance. With a challenge pit in a tiny room, giving the celebrities little opportunity to interact with bewildered citizens, it's no wonder Celebrity Apprentice turned on Busey cam. And then, unsurprisingly, we found ourselves with the following ridiculous moments!
8. Gary Gets Away With Murder
Mainly, by talking about murder with the South African travel executives and still avoiding the axe. Apropos to nothing, the all-star pulled aside the two executives to share his travel experiences in the country: "They put us up in Johannesburg and I heard people getting murdered." (Only slightly less offensive than the contestant introducing himself to the executives as if they didn't speak English: "I've had such a good time in your country making film.") But is there anything Gary can't sell with a Vietnam night terror? Next up: Gary's marketing plan for Aquafresh — Wading through the cold, dark jungle, shivering as you avoid the stare of the edge of a bayonet? Let the sparkling light in your smile help you guide the way!
7. Bret Michaels' Rosy Return
Because who's better to judge the abilities of our remaining all-stars than the first one kicked off the show?
6. Donald Trump Has Never Had a Drink
Admitted the billionaire, despite having offered his name to a line of vodka. Not that it's too much of a surprise — the man has spent a lifetime selling something he knows nothing about: Class. 
5. "Is She a Leader, Or a Stressed-Out Bitch?"
And thank you for proving my point, Mr. Trump, with your critique of the lovely Brande Roderick.  
4. We're Gonna Need a Bigger Idea
At least, that's what Team Power should have thought while creating their adventure concept for South Africa. Because the team's interactive expo — which came complete with an unfunny man in a shark costume and a zipline-inspired ride across the room in an office chair — simply looked like Friday Fun Day in an elementary school classroom. Sorry, Lil Jon — if you wanted to recruit a shark for your expo, you should have snagged this guy. And sorry, Brande, that the embarrassing display led to your ouster.
3. "Do You Have Balls In Your Establishment?"
If this is how manly man Trace Adkins shops, then I'd love to see how he parties.
2. Trace Shows Us the Funny
I could be offended by the country star's multiple slightly offensive statements towards women, but I'm just so goddamn excited to see the endlessly bored contestant show a little bit of life to care. It's hard to choose what was the better quote of the night: His assessment of his team's shoddy ideas ("You polish your turd, and I'll polish my turd. And we'll all end up with shiny s**t. That ought to be a song.") or his anger over not being able to discuss safaris at the team's expo ("It's like a farmer whose got these six daughters, and one of them is really hot, and five are really ugly, and you just really want to see the hot one, but he won't let you"). Please, oh please let this lead to "Accidental Sexist."  
1. "You Know the Most Dangerous Thing In the Water? A Shark Fart."
Okay, maybe Gary is necessary for this show after all.  
More:
'Celebrity Apprentice': Yep, Gary Busey's Naked 
'Celebrity Apprentice': Dennis Rodman Insults Melania Trump
'Celebrity Apprentice': Dennis Rodman Is a Modern Artist
---
From Our Partners


Stars Pose Naked for 'Allure' (Celebuzz)


Which Game of Thrones Actor Looks Least Like His Character? (Vulture)