'Celebrity Apprentice': Crocodile Tears, Creepy Tickling, and 8 More Ridiculous Moments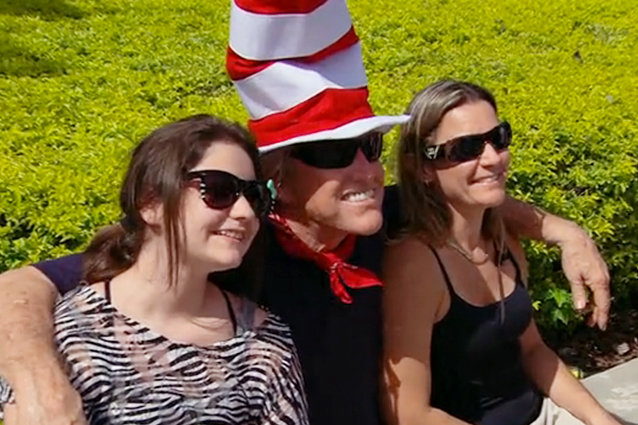 Ah, the spring. That one time of year in which we celebrate has-beens who are neither celebrities nor apprentices on NBC's Celebrity Apprentice. And though part of me wishes daylights savings had occurred at approximately 10pm ET Sunday night — so we could have condensed the overblown reality series down to one sensible hour — the other part of me can't resist 120 minutes of Celebrity Apprentice's pure insanity. During Sunday night's episode, there were tears, laughter, and law-defying tickling. But how did Celebrity Apprentice's ridiculous moments stack up? Let's rank them!
10. Marilu Henner's Useless Talent
The former Taxi star has highly superior autobiographical memory, which, for all your '90s kids out there, makes her the adult equivalent of Cam Jansen. But instead of using this skill to heed advice from the Universal Studios executives — or to incorporate even the smallest details into their photo booth — Marilu turned her memory into a parlor trick, telling everyone the day of the week they were born after learning their birthday. Impressive? Yes. Useless? Yes. "Useless" an adjective we'd expect describing a Celebrity Apprentice player? Most definitely yes. 
RELATED: 'All-Star Celebrity Apprentice': Who Was Fired First?
9. Plane and (Not) Simple
Donald Trump chose to fly his all-stars down to Orlando on his private jet in order to participate in a challenge that would reward the Project Manager's charity with $20,000… a sum far less than it likely cost to travel to Universal Studios in the first place. 
8. Nothing Trumps Trump's Jet
At least, according to the Celebrity Apprentice headliner, who spent a good portion of the final boardroom attempting to get his jet the stamp of approval from Dennis Rodman. Which is silly, considering Rodman is the type of person who approves these stamps. 
7. The Mere Existence of Giant Trump
More disturbing than Trump's hairline and whatever's going on in Gary Busey's brain? Seven-foot tall, 200-year-old vampire Eric Trump, who appeared on Sunday's Celebrity apprentice as an advisor who somehow developed the ability to go out in Orlando's daylight. Tall dude gives a new meaning to Trump towers. 
6. Plan B's Seeing Double
Or, at least, Universal Studios attendees were when they went to Plan B's inane photobooth, which featured cardboard cut-outs of the Celebrity Apprentice stars… standing alongside the real Celebrity Apprentice stars. Then again, our has-beens are so two-dimensional, it might have been difficult to determine which was which.
RELATED: 'Celebrity Apprentice': Gary Busey Will Be Back In Your Nightmares
5.  The Discovery of Trump's Hairline
March 10, 2013: Scientists will one day fondly recall the day we at last spotted Trump's real hairline, covered by a hairstyle that involves Trump combing his hair forward before he combs it back. Which means Trump's coif is constantly doing the Electric Slide. 
4. "I Am the Cat in the Hat And I Love You."
The most bizarre sentence any Celebrity apprentice star could ever utter to the Universal Studios executives is also quite possibly the most poetic thing Gary has ever said. Hallmark, are you listening?    
3. Omarosa's Coping Mechanisms
Part of me feels bad for questioning Omarosa Manigault's participation on the series just months after fiancé Michael Clarke Duncan's death, so I'm glad LaToya Jackson did it for me. And the other part of me now worries about my sanity after siding with LaToya. 
2. Omarosa's Post-Win Breakdown
Part of me feels bad for questioning whether or not Omarosa was crying crocodile tears for her late fiancé after her win as Project Manager, so I'm glad Dennis Rodman did it for me. ("You were nominated, right? For one Oscar?" the athlete asked Gary, then pointed to Omarosa. "There's one right there.") And the other part of me now really worries about my sanity after siding with Dennis.  
RELATED: Even Celebrities Are Fed Up With Donald Trump
1. Gary, the Tickle Monster
In a scenario pulled right out of your nightmares, Gary found the best way to entertain the masses at Universal Studios was to tickle them. So, don't worry kids — there are things more terrifying than a life-sized chicken. Have fun in Orlando!
Did you tune into Celebrity Apprentice? Think Dee Snider deserved the boot for his redundant photo booth?
[Image Credit: NBC]
---
You Might Also Like:


8 Male Stars With Tramp Stamps


15 Stars Share Secrets of their Sex Lives (Celebuzz)