'Celebrity Apprentice': Life Is Ruff for Gary Busey, the Mechanical Dog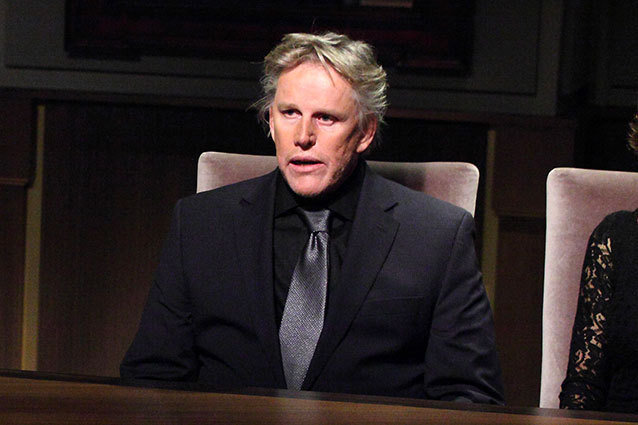 Are you tired? Run-down? Listless? Do you find yourself easily swayed by D-list celebrities on television? Then you'd love the 120-minute infomercial that was Sunday night's Celebrity Apprentice. Yes, life was certainly good for LG — the company at the center of this week's promotional task — but not for Celebrity Apprentice fans who would prefer to watch a reality show episode over an extended commercial for the electronics brand. But it's a surprise the NBC series had a problem filling two hours without excessive product placement from contestants who only care less for their dignity than LG's phones — after all, for the second time this season, Gary Busey climbed out of Vincent D'Onofrio's skin to act as Project Manager.
But, unfortunately for Penn Jillette and Lisa Rinna, Plan B couldn't quite tame their leader this week, who bucked orders to sit and behave (playing dead would be impossible for a man whose soul already died and and was replaced by a rabid horse in 1998) in order to fulfill his dream of humping a table. But let me elaborate with this week's one and only most ridiculous moment…
Gary, The Mechanical Dog
It was plain as the crazy on Gary's face that the human set of teeth was going to finally get fired this week. You can point to Trump's patented pre-firing glad-handing (lauding the strengths of a man who knows more about shark farts than his own surroundings) or the fact that the actor was indeed, as he noted, a salmon out of water compared to his more astute team members, but, still, Busey's firing came down to one thing: The Oscar-nominated actor hit a ruff (er, rough) patch when he insisted on portraying a "mechanical dog" in Plan B's 90-second LG ad.
The whole bit was so bizarre, it could have been straight out of a modern art exhibit at the MOMA — and by MOMA, I mean the marijuana-and-Cheetos laced fantasy of a teenage burnout. The premise: A technology-illiterate father, played by Gary, learns about LG products from his wife, who appears to have a daughter of the exact same age. (It was a "weird Mormon sister-wife thing," Penn noted.) Then, the father asked, "What will LG think of next? A mechanical dog?", a sentence that seemed to trigger a hypnosis transforming the actor into a dog that begins to bark-slash-possibly vomit. Gary's wife-slash-daughter's fiancé calms the father, who realizes with his new LG phone, he no longer needs to be a mechanical dog. Then his wife-slash-daughter said she was going to let nature call to her while watching TV, and suddenly, we got into a territory far more blue than Clint Black's All Detergent masturbation ad. It was absolutely insane, but anyone who ever hoped for a sequel to C.H.O.M.P.S. must have been pleasantly surprised. 
So it was clear it was time to say goodbye to Mr. Hang Brain Gary, a true reality artist who, in this episode alone, said several things that made absolutely no sense about bags of hair, farts, and his status as a father of a two-year-old child. It's a sad day for Celebrity Apprentice  — one that, no doubt, we'll remember as well as Marilu Henner. Now the series will have to rely on the limited talents of its remaining five cast members instead of Gary's half-naked body for good TV. How will we be tickled now?
More:
'Celebrity Apprentice': Gary Busey Gets Away With Murder 
'Celebrity Apprentice': Gary Busey's Naked
'Celebrity Apprentice': Dennis Rodman Insults Melania Trump
---
From Our Partners:


Miley Goes Braless for Magazine Cover (Celebuzz)


33 Child Stars: Where Are They Now? (Celebuzz)