'Celebrity Apprentice': Dennis Rodman's A Modern Artist, and 7 Other Ridiculous Moments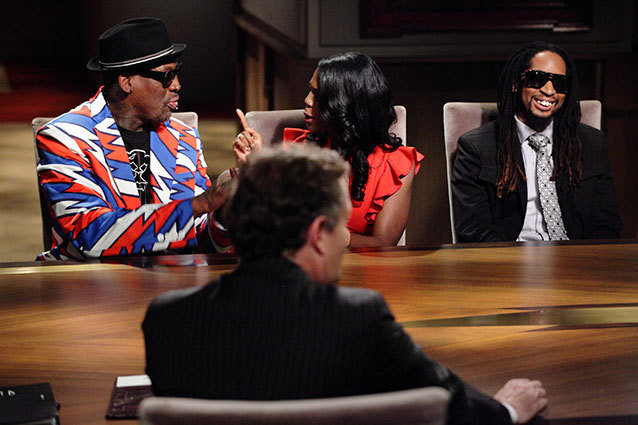 More beautiful than a piece of art? The fact that Sunday night's Celebrity Apprentice was only a merciful 60 minutes long. (And this is the only time you'll see an entertainment journalist thank The Voice for three straight hours of programming.) But the shortened episode was hardly the most beautiful thing about Sunday's show. After a five-week tear, self-proclaimed boardroom expert Omarosa Manigault was finally fired from Celebrity Apprentice, outdone by, of all contestants, Dennis Rodman. 
But the fact that Omarosa used the word "integrity" during her fight to stay in the competition was hardly the most ridiculous thing about Sunday's episode, which saw Lisa Rinna clinch a victory for her charity, St. Jude's.  The challenge, which asked the stars to raise money for their project manager's charity by creating and selling their own artwork, also led to these moments more ridiculous than guest judge Piers Morgan accusing someone of thinking they're a celebrity: 
8. Dennis Rodman, a Force in the Boardroom
It was easier to understand the most sprawling of Faulkner novels than Rodman's plea in the boardroom to send home Omarosa, yet the basketball player still drew me in more than a late '90s Carmen Electra. Who knew The Worm would take down The Snake?
7. JELL-O, Blue Man Group!
Everyone's favorite non-support group showed up to support Penn Jillette, donating thousands of dollars encased in 150 pounds of JELL-O. Even they miss Season 1 of the the Office.  
RELATED: 'Celebrity Apprentice': Dennis Rodman Can Cure Homelessness
6. Dennis' "Redemption"
Trump claims the basketball player's very conscious performance on this season of Celebrity Apprentice is redemption for his efforts on Season 2 of the series, which Rodman mistook for a different reality show called Nap On Camera. Which means I experience my own personal redemption story every time I wake up in the morning. Still, Rodman is too good a reality star to let go, so he, like his big screen spirit animal Jean Valjean, will live one day more on Celebrity apprentice. 
5. Dennis Rodman, Sober Modern Artist
Take note, kids: Stay off drugs, and you too can earn praise for arguing nonsensically, staying conscious, And crafting an impressive piece of modern art involving Derek Jeter's bat.    
4. "Specific to Me, the Art Does Matter."
Says Stephen Baldwin, the man who once starred in Snakeman. 
RELATED: 'Celebrity Apprentice': Omarosa and LaToya's Ridiculous Fight
3. Stephen's a Piece of (Art)work
Sadder than Picasso's Blue Stage is Stephen's entire life stage, brought to life by a piece of art he called "I'm Not Alec." Whether that title showcased his inferiority complex more than his pride that a non-existant art dealer thought the piece was better than the artwork of his fellow D-list celebrities… you be the judge.  
2. "It Came From an Unknown Presence."
What could be the first line from an H.G. Wells novel also proved to be the logic behind real-life Morlock Gary Busey's "Mr. Hang Brain," a piece of artwork that did indeed look like it came straight out of the actor's subconsious. And, as it turns out, a donor was willing to pay $25,000 for a glimpse inside Busey's mind. What's even more surprising, though, is that…
1. Art Imitates Life
Who could predict the Entourage plotline most likely to come true was Busey's success in art? (Admittedly, still more realistic than an Aquaman movie.)  
[Image Credit: Douglas Gorenstein/NBC]
---
You Might Also Like:


Topanga's Revealing Lingerie Shoot: Hello '90s!


13 Most WTF Fan Tributes