Our 10 Favorite Character Breakthroughs on 'Community'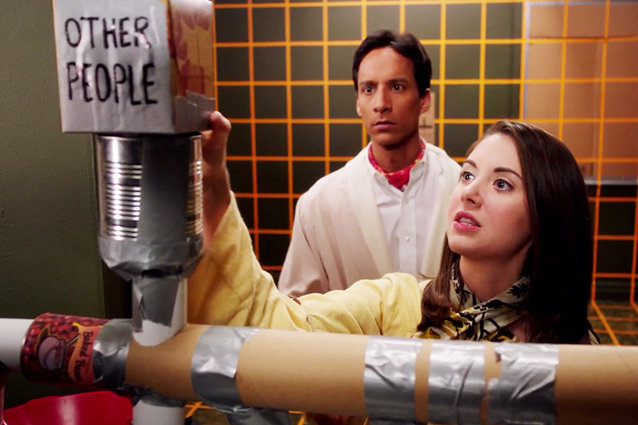 NBC Universal Media
Community was a well-loved show for many reasons, chief of which was the fact that in the midst of all its oddball genre-bending and crazy twists of fate, it never lost sight of itself as a truly character-driven show. And as such, five seasons (though sadly not the infamous "six seasons and a movie"… yet) saw the members of Greendale's favorite study group through the ups and downs of quite a lot of personal growth: now, without further ado (and in chronological order) here are some of our favorites!
1. When Troy gets the courage to get up on stage in "Interpretive Dance"
Early Season 1, Troy was still wrestling with his ultra-masculine identity as a former high school sports star, struggling (with the help of Abed) to get in touch with his creative side. Well, here he found it with dance, and Britta provides him with the perfect opportunity to be masculine and a dancer.
2. When Annie finally stands up to Troy in "Football, Feminism, and You"
Yes, it's a tad lacking in terms of social graces (she terrorizes Troy and his date as she takes back her grandmother's quilt, all whilst wearing an open-backed hospital gown), but it was still a real development for the love-stricken Annie.
3. When Annie and Britta make peace with their mutual jealousy in "The Psychology of Letting Go"
After competing for donations for oil spill clean-up (a competition which involved impersonating each other and some light oil wrestling), Annie and Britta are finally able to clear the air re: their Jeff Winger-induced rivalry.
4. When Troy embraces his nerd side in "Epidemiology"
Caught between the carefully constructed Aliens homage and a desire to appear cool, Troy is finally able to eschew all notion of coolness, and storm into that infamous zombie-riddled Halloween party in cardboard armor, armed with fake weapons.
5. When Abed accepts the group as his new family in "Abed's Uncontrollable Christmas"
Abed's mother abandoning him took a huge toll on him, but a fantastical claymation adventure helps him realize that there are a lot of people who really care about him.
6. When Pierce puts each study group member to the test in "Intermediate Documentary Filmmaking"
Jeff finally admits he has unfinished business with his father, Shirley lets go of some of her insecurities about her status within the group, and Britta is able to make peace with the disparity between her aspirations to be selfless and her actual self-centeredness. Oh, and Troy meets Levar Burton!
7. When Annie helps Abed realize that he'll always have a place in their group in "Virtual Systems Analysis"
It's actually kind of a beautiful scene – she's able to convince him that he can't retreat to his Dreamatorium in lieu of the real world; that, like her, he can't try to control everything. She also reminds him that he'll always be able to find acceptance somewhere: that he'll never find himself stuffed into someone's locker again.
8. When Pierce makes peace with his half-brother in "Digital Estate Planning"
Pierce was always a petulant man-child, so his attitude towards Gilbert (A.K.A. Gus Fring!) after learning he was his half-brother was surprisingly sweet.
9. When Jeff stands up to his father in "Cooperative Escapism in Familial Relations"
Jeff's emotional reunion with his father tugs at the heartstrings, but at the end of the episode, he realizes he's found his true family in his study group.
10. When the group (along with a pill-induced G.I. Joe hallucination) help Jeff make peace with turning 40 in "G.I. Jeff"
We've always known Jeff was vain, but taking "Age Reverse Life Extend Power" pills? The group knew how to get him to laugh about it with a "It's a OLD boy" mug, courtesy of the hospital gift shop.
There are countless more instances of character breakthroughs on the show – what are some of your favorites? Share in the comments!