Charlie Sheen's 'Anger Management' Sitcom Adds Brett Butler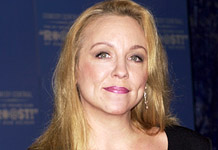 In his quest to reclaim sitcom stardom post-Two and Half Men, Charlie Sheen is enlisting the aid of another Chuck Lorre apostate. Deadline.com reports that Brett Butler, star of the '90s Lorre hit Grace Under Fire, has joined the cast of Sheen's new comedy series Anger Management, which is slated to premiere on FX on June 28.
Like Sheen, Butler feuded publicly with Lorre while the two worked together. At one point, things got so bad that Lorre left Grace Under Fire to go develop Cybil, starring another actress who would come to hate him. Butler also shares Sheen's experience with substance abuse problems, but has been living sober for the last 12 years. After departing Los Angeles in 1999, she lived for some time on a farm in Georgia, but recent financial problems led to a much-publicized bout of homelessness.
Anger Management is Butler's first major role since Grace Under Fire was canceled in 1998. She is slated to play a bartender in the show, which will star Sheen as a therapist who specializes in anger management.
Source: Deadline.com