'Community' Ratings Mark Record Drop (So, Everything's Back to Normal?)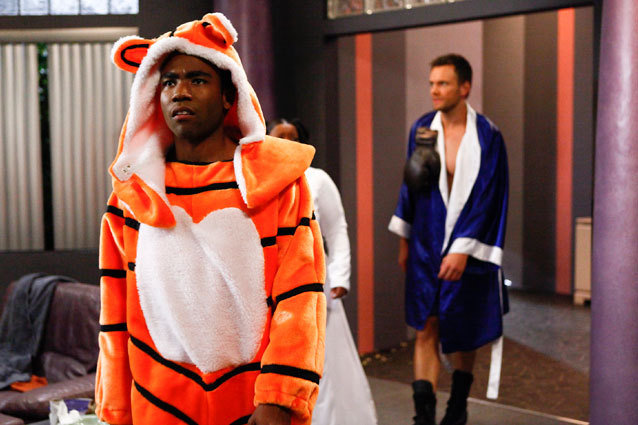 And that's more like it.
It's a cynical frame of mind, but we've come to expect Community to flounder in the ratings. Historically ignored by the general population, the NBC sitcom now seems to be losing the favor of its small but devoted fan base, what with the dismissal of creator Dan Harmon and several of his most trusted writers. So when last week's Season 4 premiere debuted with record numbers, we were shocked. But the viewing figures of the season's second episode, which aired Thursday night, make a bit more sense.
RELATED: 'Community' Recap: Paranormal Parentage
Entertainment Weekly reports that the Valentine's Day episode — which, due to the show's discombobulated scheduling, was an in-universe Halloween episode — took in a meager 2.7 million viewers, with a 1.1 rating among adults 18 to 49. This marks a drop of 42% from last week's impressive intake.
Perhaps after tuning into Season 4 with high hopes, Human Being traditionalists found the Harmonless season lacking, opting not to follow up (at least not with a night-of viewing) with the episode thereafter. Perhaps Community fans were all cavorting about town with their beloved ones, celebrating the day of St. Valentine. We know that is wasn't due to an abundance of people watching Zero Hour — the ABC drama didn't fare too well itself.
RELATED: 5 Ways 'Zero Hour' Could Be a Must-Watch TV Show
Breaking the record for the lowest rated in-season debut series on ABC, Zero Hour premiered last night to a viewing audience of 6.3 million and a 1.3 rating, this network also down in the timeslot from the previous new occupant: Last Resort (the Zero Hour premiere marked a 41% decrease in ratings from that of its timeslot predecessor).
So pop-culture costumes and Nazi clocks — not big wins for Valentine's Day. Remember that when gift shopping next year, everybody.
Follow Michael Arbeiter on Twitter @MichaelArbeiter.
[Photo Credit: NBC]
---
From Our Partners:

Pregnant Kate Middleton Bikini Pics Spark Palace Anger (Celebuzz)

50 Steamiest Movie Kisses of All Time (Moviefone)