TV's Hottest Hangout Spots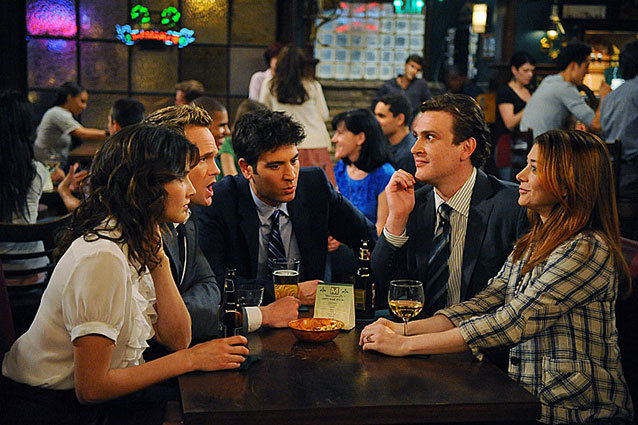 Ron P. Jaffe/FOX
Once upon a time, in a very far-away land, there existed a place called the hangout, where friends gathered once a week to vent, good-naturedly bitch, and work out real-life problems (see love, death, paternity, and yes, even murder) over a beer, coffee or cup of soup at a table or booth that was always conveniently empty whenever they came in. Here are some of the best TV hangouts we wish were in our own neighborhood.
Saved by The Bell practically started the hip hangout.  Kelly, Screech, Zach and Slater (and the other ones) met up after school at probably the most innocent of all hangouts, The Max. Come on, what high school student is allowed to spend that much time away from home?!
Beverly Hills 90210 (the original) began its days with the almost equally innocent Peach Pit, until Steve Sanders opened The Peach Pit After Dark (enter Tiffiani Amber Thesan). Many dramatic nights ensued in the nightclub: fighting, crying, spousal abuse, dancing, even od'ing. Then there was that time the Flaming Lips played there. That was weird.
Life doesn't get much cooler than the basement of Ted's apartment in How I Met Your Mother. He lives above MacLaren's, a bar where Lily, Marshall, Barney and Robin meet almost every day to…well, Barney goes there to get laid.
Living above a bar might be hip, but what about living in the bar? Revenge's Stowaway Tavern does more than host a litany of dramatic scenes between the rich and poverty stricken; it also houses the sometimes object of Emily Throne's affection, the Revenge-hungry and grief stricken Jack Porter.
The Simpsons' Moe's Tavern, where television's most loved and hated cartoons join to grab a beer. Though it's rumored to never have been cleaned, it's curious that every beer glass is always crystal clear.
Before the days of cell phones, Seinfeld's Jerry, Eileen, George or Kramer could always find solace in a friend at their booth at Monk's Café, no matter how weird things got…and they got weird. Fun fact: the real New York City landmark that the show used as the outside establishing shot of Monk's was a diner called Tom's, the same place Suzanne Vega wrote her hit "Tom's Diner" in.
And probably the most famous of all…I'll give you one guess. Cheers. It's all too true, sometimes you wanna go where everybody knows your name.