Ichabod And Abbie Of 'Sleepy Hollow' Are The New Elliot & Olivia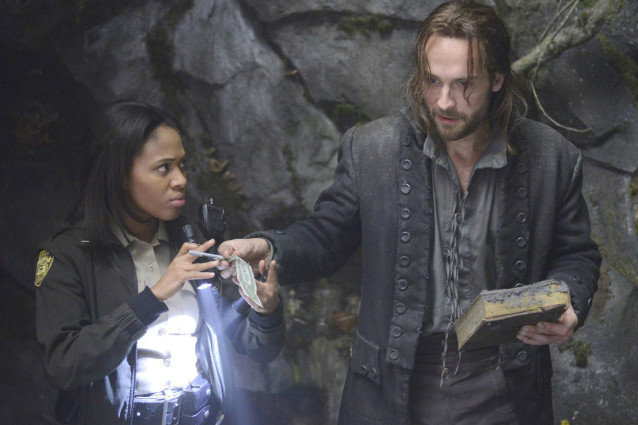 FOX Searchlight Pictures
If you haven't been watching the new Fox show Sleepy Hollow, then you are missing out on some crazy-awesome, supernatural type stuff. The new drama stars Tom Mison as Ichabod Crane and Nicole Beharie as Lieutenant Abbie Mills. While these two are obviously a unique pair, they also remind us of another duo that stole our hearts years ago. Crane and Abby are so the new Elliot Stabler and Olivia Benson from Law & Order: SVU, which is just one more reason to tune in to the show. Here are a few comparsions that we can't help but make between the two pairs.
Tough Guys Need Love Too
For years we watched Elliot Stabler get a little too tough with the bad guys on SVU (but only when he was, like, really upset). And on recent episodes of Sleepy Hollow it's become clear that Crane totally has some issues to work out, as he tends to get a wee bit intense when things heat up. And in the same way that we've seen Olivia rein Elliot in, Abbie's had to be there to help Crane get it together. Sometimes you gotta tag team these emotional issues, but that's what friends/detective sidekicks are for.
Detective Ladies Who Know How To Work A Plain T-Shirt And Some Slacks
Seriously though. Not many of us could look hot while chasing after creeps (living or dead), but Olivia and Abbie have this down pat. Both of them show up every day to work in a snug little v-neck shirt, some dark pants, and proceed to kick ass all over the place. It's awesome.
Just A Smidge Of Sexual Tension…But Not Enough To Make It Awkward
Like Stabler, Crane is a married man with a few complications in his relationship (i.e. his wife is actually trapped in another realm). And like Olivia, Abbie is single and a little too busy to mingle. But both duos share such great chemistry — and are so ridiculously devoted to each other — you can't help but wonder if all that chemistry isn't actually the teeny, tiniest smidge of sexual tension creeping through. But we don't want to push it! Lest things get awkward…