'Cult' Canceled? The CW Drops Remaining Episodes From Schedule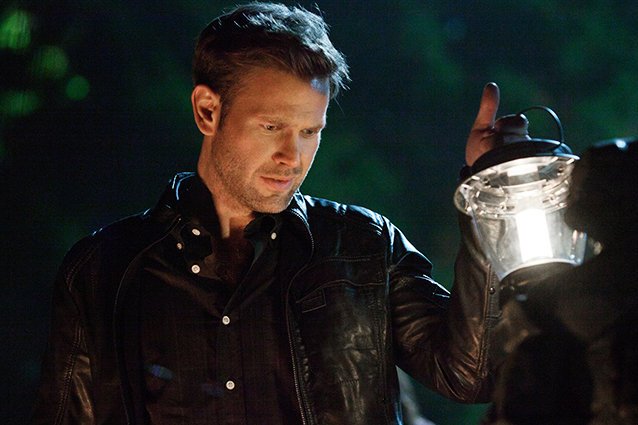 Looks like the CW's Cult just isn't finding enough followers. A little more than a month after moving the ratings-struggling meta-thriller from its post-Hart of Dixie slot on Tuesdays to follow the darker, edgier Nikita on Fridays (a move we thought was actually smart), the network has dropped the remaing Cult episodes from its schedule entirely.
In layman's terms, that means the CW has pretty much canceled Cult. Sorry, Matthew Davis fans: unless The Vampire Diaries brings back Alaric from the dead (hey, if Jeremy is coming back there's still hope for our favorite history teacher!), Davis will once again be absent from our TVs each week. Commence crying now.
Regardless of the fact that the cast and crew filmed 13 episodes, only seven episodes have aired and as of now it looks like the CW won't run the remaining episodes. Instead, reruns of The Carrie Diaries and Oh Sit! will air in the Friday 9 PM ET/PT time slot.
"#Cult Sadly true," creator Rockne S. O'Bannon tweeted. "CW Execs once called the last 5 episodes "outstanding". I guess too outstanding. You are great, SMART fans. Thx to u all!"
The dark, moody Cult follows investigative journalist Jeff Sefton (Davis) as he searches for his missing brother and in turn uncovers the dark underworld of the TV show within the show, Cult, with which his brother was obsessed.  The series also stars Jessica Lucas as Skye Yarrow, the intrepid Cult research assistant who helps Jeff with his investigation, Alona Tal as the show-within-the-show's cop (and the actress who plays her), and Robert Knepper as the show-within-the-show's dastardly cult leader Billy Grimm (and the actor who plays him).
Follow Sydney on Twitter: @SydneyBucksbaum
More:
'Cult' Moves to Fridays: Why This is Actually a Good Idea for The CW
'Cult' Stars Explain Their Confusing (and Intriguing) New Show
'Cult': Should You Get Hooked On The CW's Show Within a Show? 
---
From Our Partners


Jessica Alba Bikinis in St. Barts (Celebuzz)


Pics of The Rock Making Things Look Small (Vulture)