Did Beyonce Have Blue Ivy? Is Elvis Alive? 'Cult' Stars Ponder Pop Culture Conspiracies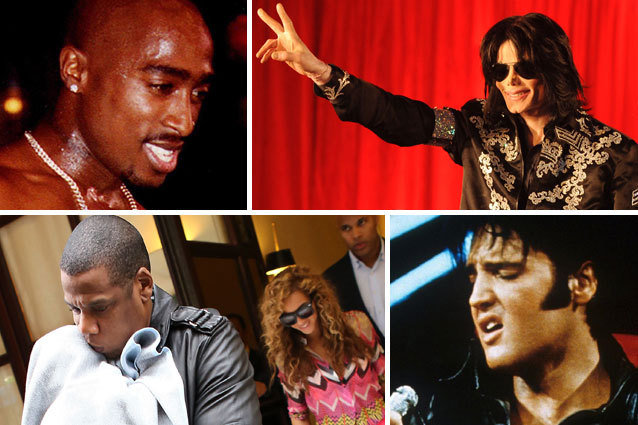 If you ask Matt Davis, Michael Jackson is still alive and well. Davis — the star of The CW's brand new mystery series, Cult, about a reporter who teams up with a television assistant to investigate the crazy-obsessive fans surrounding a TV show after his brother, a superfan, disappears — loves a good conspiracy theory.
"As much as I would love for Elvis to be alive — I love Elvis — at this point unfortunately I think that Elvis is dead. I do believe, however, that Michael Jackson is still alive," Davis tells Hollywood.com. "I believe he is probably dressed in a burka somewhere in the Middle East. I firmly believe that. I believe he's walking around somewhere with a head scarf covering his face, probably living in some sheikh's palace just disconnected from the whole world. That's what I hope. I love Michael Jackson. I miss him."
RELATED: 'Cult' Stars on Their Confusing New Show
The plot of Cult was a secret even to its stars, who didn't find out what was happening until their scripts for the next episode were delivered. "As every script came out, it was like 'Oh, really?' Every episode was a surprise," star Jessica Lucas, who plays Skye, a television assistant who teams up Davis' Jeff to uncover the truth surrounding the mystery of the show-within-the-show. Cult is a boon for conspiracy theorists, who will have plenty of clues to unravel as the season progresses.
Since The CW is still keeping the show's plot close to the vest, Hollywood.com decided to take another path and quiz the Cult stars on their favorite pop culture conspiracy theories.
Davis, Lucas, and Robert Knepper, who plays creepy cult leader Billy Grimm (and the actor behind him, Roger), seem aligned on the Elvis issue. Knepper says after bonding with a security guard during a trip to Graceland, he's of the mind that Elvis is dead. "Oh, I know he's in there because my sister was in the emergency room when they brought him in and he was deader than a doorknob," Knepper says the guard told him when they chatted about Elvis' grave. "As far as that theory goes, I'm pretty sure he's dead because I trust that guard," he says.
RELATED: The CW Premieres 'Cult' — Could You Get Hooked?
Lucas is a skeptic about most things. "I am the most realistic person, so I have to see it to believe it. You're going to have to show me that Elvis isn't gone, that they're actually alive for me to believe it," she says. "I wish Tupac were still alive because I love him!"
What about the most recent Hollywood conspiracy theory: that Beyonce (a member of the Illuminati?) didn't actually carry daughter Blue Ivy , but a surrogate did. "I saw that tape too, of her belly looking like it caved in, but no! I would've been much more inclined to believe that Tom Cruise and Katie Holmes didn't actually have Suri or something, but I don't believe that Beyonce didn't [have Blue Ivy]," Lucas says.
Color Davis surprised that it was even a question. "What?! Oh good lord, I hadn't heard that one! I wouldn't be surprised. I mean, the Illuminati will stop at nothing to deceive people, even if it means Beyonce didn't really have a baby. That's what I'm convinced — the sole purpose of the Illuminati is not global control, it's just to deceive people. It's just to give people conspiracies to talk about. So thank you, Illuminati, for another one, which is Beyonce didn't really have Blue Ivy. I didn't know that. Can't wait to spread that one."
RELATED: What Are Pop Culture's Biggest Conspiracies?
Davis is more certain about Suri's parentage. "That Suri kid is so beautiful, and to me looks just like Tom Cruise and Katie Holmes, so I'm sorry. They had that baby."
Cult airs Tuesdays at 9 PM ET/PT on The CW.
Follow Jean on Twitter @hijean
[Photo Credits: Daniel Deme/WENN; WENN(2); FameFlynet]
---
From Our Partners:


25 Most Scandalous Celeb Twitpics (Vh1)


33 Child Stars: Where Are They Now? (Celebuzz)