'Cult' Stars Explain Their Confusing (and Intriguing) New Show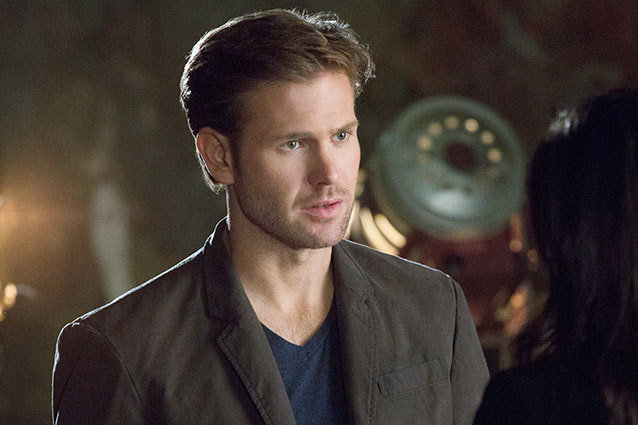 The CW's newest drama, Cult, about a TV show and its crazy, passionate fans is much more difficult to talk about than it is to watch. The series follows a reporter who starts investigating the fandom surrounding a mysterious TV show about a cult leader (also called Cult) after his brother disappears.
Former Vampire Diaries teacher/whiskey aficionado Matt Davis plays the reporter who starts to dig into the mysteries of the cult inspired by the Cult show, accompanied by one of the show's intrepid research assistants (Jessica Lucas).
"Talking about it, trying to compose a coherent thought about it in a nice soundbite is very difficult to do," Davis admits to Hollywood.com. "Watching it is not as complicated as explaining it, hopefully."
RELATED: The CW Premieres 'Cult' — Should You Get Hooked?
It's true — you'll be able to glean a lot from the premiere episode, which has already been posted online. Davis says that although a lot of questions are raised in the pilot, they'll be answered sooner rather than later — only to lead to other questions. "Each episode will provide an answer that leads to another question, so it'll keep you moving along. I do believe it will become more coherent as the season progresses. It does lead you down a rabbit hole," he says.
Says star Robert Knepper, who plays actor Roger in the show, and cult leader Billy Grimm in the show-within-the-show, "Trust me: All that stuff gets answered. If you're ADD, you just have to stick with it."
Once you watch the premiere, you'll understand. Says Davis, "The second episode is a direct continuation of the pilot, almost. It's basically two hours, which helps clarify what's happening. The third, fourth, and fifth episodes continue to deepen and clarify the characters — the bad guys, the good guys — and expand upon the show within the show and what's going on there. I do believe it becomes clearer as it goes along."
Are you intrigued enough to check out Cult? Have you already watched the premiere? What did you think?
Follow Jean on Twitter @hijean
[PHOTO CREDIT: The CW]
---
From Our Partners:


Bradley Cooper Dancing Is Surprisingly Awkward, Sweaty (Vh1)


Kate Upton Bares All in Nothing But Body Paint: Video (Celebuzz)