'Dallas' Cast Previews Tonight's Emotional Funeral for J.R…. And a Thirst for Revenge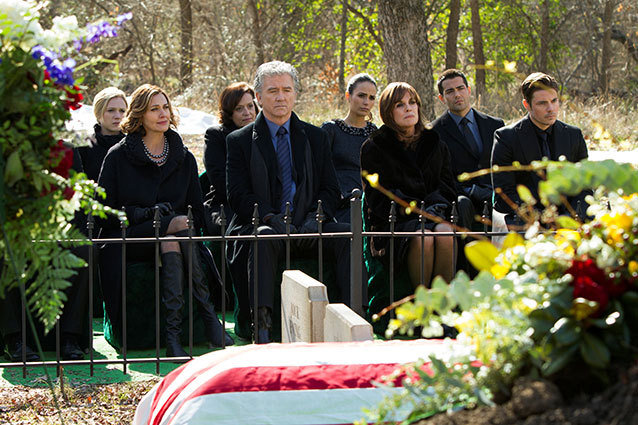 It will be the end of an era when Dallas pays tribute to late actor Larry Hagman — and with him his iconic role, J.R. Ewing —  in tonight's funeral episode, "J.R.'s Masterpiece." According to the cast, Hagman's passing has led to some serious emotional ramifications both onscreen and off — and these ramifications may lead to some very poor decision-making.
"Honoring Larry, honoring J.R. — we have to do that," Patrick Duffy tells Hollywood.com at the show's PaleyFest panel in Los Angeles the day before the episode's premiere. "The audience wants that. We can't just ignore it. You have to take a moment and let everything just stop, and do this moment where we do the right thing."
Though the funeral was for a fictional character, there were times when it felt all too real. Which makes sense, considering it kind of was. Brenda Strong, who plays Anne Ewing, is proud to have been a part of it. "It is one of the most exquisite pieces of television I have ever had the honor of being a part of," Strong says. "It absolutely is a tribute to the icon of Larry Hagman, and the icon of J.R. We all had an opportunity through the catharsis of art to grieve and to celebrate the life of Larry Hagman."
Obviously the cast feels Hagman's loss very deeply, and his character's death will have major emotional ramifications for the show, too. Duffy says the loss of his brother has a major effect on Bobby in more ways than one. "Bobby has totally lost his raison d'etre, his purpose as a character," Duffy says. "He was always there to counteract the machinations of J.R., to maintain the integrity of the Ewing name, to honor what his momma and daddy stood for. He always felt that J.R. was endangering that, and his job was to protect it. Now that there's no J.R., the writers have to find a reason for Bobby to be Bobby."
RELATED: 'Dallas' Star Larry Hagman Dies at 81
The writers did just that, according to Jesse Metcalfe, who plays Bobby's son, Christopher Ewing. "J.R.'s death really sets in motion a very mysterious, compelling storyline that brings a lot of interesting characters together," Metcalfe says.
That's right: It's "who shot J.R." for the second time around. But this time, there's no summer cliffhanger to ponder: Executive producer Michael Robin says the answer will be revealed by end of episode 15. In the meantime, expect to see J.R.'s son, John Ross (Josh Henderson) struggling to solve his father's murder. "John Ross is deeply impacted by the loss of his father," Metcalfe says. "He's becoming very angry and volatile, and wants revenge. So Christopher keeps a watchful eye over him to make sure he doesn't do anything he might regret."
The loss of the love of her life will also cause Sue Ellen (Linda Gray) to make a choice that will change her life going forward: it will drive her to have a drink for the first time in 30 years. But executive producer Cynthia Cidre assures us that the issue will be handled in a classy way. "It won't be Aqua Velva & homelessness," Cidre says.
"J.R.'s Masterpiece" airs at 9 PM ET/PT on TNT.
Follow Sydney on Twitter: @SydneyBucksbaum
[Photo Credit: Zade Rosenthal/TNT]
---
You Might Also Like:


8 Male Stars With Tramp Stamps


15 Stars Share Secrets of their Sex Lives (Celebuzz)