'Dancing with the Stars: All-Stars' 101 with Louis Van Amstel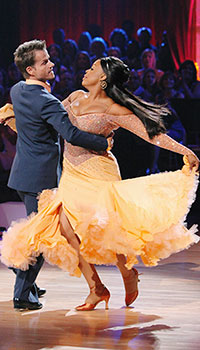 Now that ABC has announced the dancing partners for each of our Dancing With the Stars All-Stars, the real excitement can begin. Luckily for you, we've got the scoop on everyone's chances from DWTS dancer and La Blast Fitness creator Louis Van Amstel, who stopped by our New York office to school us in DWTS alumni.
With his help, we'll get you prepared for this 15th season of ABC's dancing hit.
Kirstie Alley and Maks Chmerkovskiy
Season 12, Runner-Up
Claim to Fame: Actress and Jenny Craig spokeslady
Louis says: "It was a lot of fun to watch her and she was so determined to make it to the finals just by sheer work — and she made it. Now the downfall is literally the fall. Literally, she and Maks fell. So All-Stars is redemption time for Kirstie."
Emmitt Smith and Cheryl Burke
Season 3, Winner
Claim to Fame: Former Dallas Cowboys Star
Louis says: "That personality was just so contagious. Everybody loved Emmitt and he beat probably the best dancer on that season, Mario Lopez… It's about personality, mixed in with great, fun dancing. And that's what Emmitt brings to the table… Sports athletes have an advantage in learning ability just because their physical condition, but Emmitt has such soul when he danced. He really wasn't that spicy out there. He had soul, he had such musicality… That's his secret weapon."
Bristol Palin and Mark Ballas
Season 11, 3rd Place
Claim to Fame: Reality Star, Sarah Palin's Daughter
Louis says: "It's quite surprising [to see her here] from dancing ability alone… But she was the fan favorite, somehow she got the votes. She was brought back every week, so she deserves to be here in the All-Star season. But she's got to work that out for her, because she's got, from 13 celebrities, 11 of them have dance ability. So she's got to work hard and show her ability through the dance and she might actually, again, surprise America… I'm rooting for Bristol, she's a very down-to-earth woman and her disadvantage of not being an entertainer, not being a sports person and yet somehow, she's holding her own."
Pamela Anderson and Tristan McManus
Season 10, 6th Place
Claim to Fame: Former Playmate and Baywatch Babe, generally bodacious.
Louis says: "Pamela Anderson, in my opinion, I think somehow surprised the world. She worked really hard, you could see that she wanted to be there … She didn't take it for granted, and she could actually move. And let's not forget her sex appeal. I mean, [she has it] with all those Latin dances and she really embodies Marilyn Monroe when she does the Ballroom dances. And that's going to be her strength, even though she was in the Top 6, she wasn't in the Top 3 or the champion like some of these other people. Right now, I'm banking Pamela Anderson as the underdog."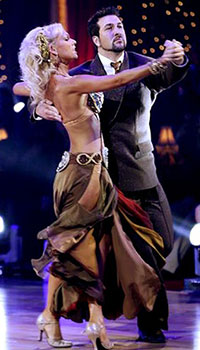 Joey Fatone and Kym Johnson
Season 4, Runner-Up
Claim to Fame: Um, only the biggest boy band ever, *NSYNC.
Louis says: "I love that guy. I just finished Dancing With the Stars in Vegas with him and he's just so down-to-earth. He's funny and he works hard and he gets the job done. I mean, no wonder he was second — he lost to Apolo Ohno who is also coming back — so it's really interesting with the dynamic from the first and second place [winners] from the same season coming back again. And then also, there's Drew Lachey who won Season 2, and they're buddies … They were from different boy bands in the '90s and yet now they're on the same show. Drew won, Apolo won, Joey was second and they're all coming back to get it."
Helio Castroneves and Chelsie Hightower
Season 5, Winner
Claim to Fame: Indy 500 Winner
Louis Says: "He might be the least known on paper here, but the guy was not known in his season either and he won. He did an amazing job, and again you could see the hard work with him. You could see that he wanted to be there, and America likes that. America likes to vote for people who are willing to put their souls on the line, put their hearts on the line, and really work hard … If you just take it easy, people won't vote for you. And Helio was a good example of a true athlete and he was there, he came and he wanted to win and he took it. Will he now though? Because there are six former champions on DWTS. So it's really going to be an interesting and exciting for the public."
Melissa Rycroft and Tony Dovolani
Season 8, 3rd Place
Claim to Fame: Former Dallas Cowboys Cheerleader, plus a stint on The Bachelor.
Louis Say:
"Melissa Rycroft had a disadvantage when she came into her season. She started one day before the live show: Nancy Odell was supposed to be on but she hurt her knee and she had to pull out, and at the last minute Melissa came in and she made it to the finals. So for her to come back to the All-Star season, having three weeks to prepare, I think everybody has to watch out for her. She has the cheerleading, not only the background of dance and skill of movement, but also the drive. She's got the drive and now she's a mom, so she's got that vulnerability inside of her. Melissa Rycroft is the one to look out for."
Shawn Johnson and Derek Hough
Season 8, Winner
Claim to Fame: Oh, you know, just a handful of Olympic Gold Medals in Gymnastics, NBD
Louis says: "With Shawn Johnson, it's going to be very interesting to see whether she has an advantage or a disadvantage because last time she won she'd just come off of the Summer Olympics and now it's the Summer Olympics and she's in the audience watching. She just retired because of her knee issues, but will that be an advantage or a disadvantage? I don't know. We'll find out Week 1, because again, it's not just her. You have six past champions all wanting to win."
Kelly Monaco and Valentin Chmerkovskiy
Season 1, Winner
Claim to Fame: In some rights, DWTS itself, but she was also a Playmate and soap opera actress.
Louis says: "Kelly Monaco won Season 1 and I was on Season 1 and I love [her]. She was so down to earth, she was just doing her job … But there was a controversy there because people had all these thoughts that John O'Hurley should have won and they had a dance off, and they somehow gave it to John O'Hurley while really Kelly Monaco was the better dancer. And a lot of people, really, tuned in for Season 2. So really, for Kelly Monaco it's going to be like the first time she's on … She's the one with a very hard upbringing. She has a fighting spirit. She's feisty. And she was a playmate so was Pam Anderson, and they were both on Baywatch, so we'll see what's going on between them two — let's see who has the bigger boobs… well, I think that's not even a question."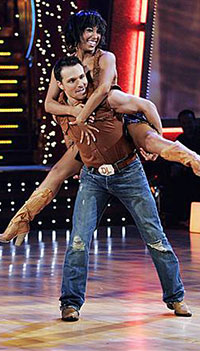 Drew Lachey and Anna Treybunskaya
Season 2, Winner
Claim to Fame: Duh, he was in 98 Degrees, though he has gained a bit more notice from heavy DWTS involvement.
Louis says: "[Drew] has the most memorable freestyle to this day… "Save a Horse Ride a Cowboy" has brought him back to the show. He hosted while Samantha Harris was giving birth to her baby and he did a great job. Also, he did three out of the four tours that we did across the country, so he's come back the entire 15 seasons, either in the audience, as a cohost, or dancing, and he was good. He's another down-to-earth boy from Ohio … and you could see that. What I love about Drew is that he's every down-to-earth, but on the dance floor he's business. He gets off and he's back down-to-earth. And he is very close friends with Joey Fatone, who is the same. They goof around, they joke. They're both very funny. Put them in a room together, it's going to be fireworks. But put them on the dancefloor, they mean business."
Apolo Anton Ohno and Karina Smirnoff
Season 4, Winner
Claim to Fame: Olympic Champion and the only speed skater you know by name.
Louis says: "He literally came to the show and he wiped everybody off the dance floor. He surprised so many people, because he is far from being a dancer and he is phenomenal. And yes, he rode off the Winter Olympics when he came on, but I don't think that's going to stop him or the voting public because he is adorable and he was great as a dancer [with] no dance experience at all. And he beat Joey Fatone and he's back [too]."
Gilles Marini and Peta Murgatroyd
Season 8, Runner-Up
Claim to Fame: Other than DWTS, you may recognize him as the "hot shower guy" from the Sex and the City movie.
Louis Says: "Gilles Marini comes back just for one thing: revenge… and redemption. Part of that is because he only lost by one percent to Shawn Johnson. One. So he wants redemption. Because [his and Cheryl Burke's] choice of music and choreography for that freestyle [in Season 8] was the wrong choice. We all know it and even they know it, and that cost them their shot. So, Gilles Marini has a big chance to do well again. To his credit, his big thing was that I dont think anyone knew who Gilles Marini was. He had that sexy scene in the shower in Sex and the City the movie, but other than that I dont know if people knew [him well enough] for him to be that close, actually one percent away from America's Sweetheart. She'd just won Gold at the Olympics in Bejing and Gilles Marini almost took it from her. That just goes to show you that Gilles Marini is going to be in for maybe another surprise."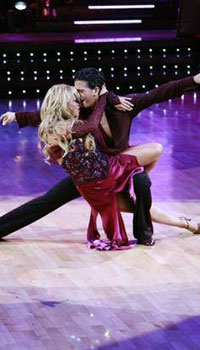 Wildcards*: Sabrina Bryan (Season 5), Carson Kressley (Season 13), and Kyle Massey (Season 11)
*Fans will vote online to determine the 13th and final DWTS All-Star contestant
Louis says: "The exciting thing this season is that the 12 celebrities are already out there, but the third celebrity is chosen by America … All three are adorable people, I know them well and I consider them friends, but if you look at each individual, Kyle Massey was second and he went as far as he could … Carson went as far as he could … Sabrina Bryan, on the other hand, was voted off midseason with three 10s because people at home thought she was going to be safe … People have to vote. You can be voted off with three tens. So for that reason, from these three, Sabrina Bryan deserves to come back for redemption because people forgot to vote. She had a big fan base, but people just thought she was safe … I think she deserves another chance."
Which wild card will you vote for?
Follow Kelsea on Twitter at @KelseaStahler
[Photo Credits: ABC]
More:
'DWTS' Expert Louis Van Amstel Talks Finale Predictions: "They All Deserve to Win"
'DWTS' Goes Classical as Louis Van Amstel Picks the Top 3
'DWTS' Sabrina Bryan Should Join the All-Stars Cast, Says Louis Van Amstel