'Dancing With the Stars: All-Stars' Recap: Cheetahs and Sequins and Bieber, Oh My!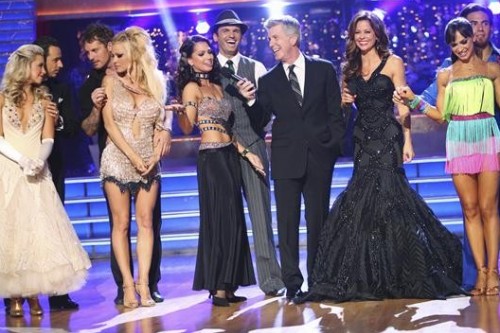 Dancing With The Stars wants so, so badly to be epic. Exhibit A: the bizarre, superhero-themed opening credits, which feature some stars (Shawn Johnson, Apolo Anton Ohno) showcasing their real-world talents, and others (ahem, Bristol Palin) looking kind of silly.
Actually, you have to hand it to Bristol. She looks worlds more confident this season. At least, that is until she gets put in front of the mic — then you can tell she's absolutely terrified. Guess she should stick to the dancing.
Kelly Monaco says "there's a certain fire" in being part of the show. But is there really? Again, DWTS is trying so hard to be relevant it almost hurts. Also, let's talk about Kelly's constant Val-staring. It's making me uncomfortable. That reminds me: It's time to start the "Number of Times DWTS Made Me Visibly Uncomfortable This Week" tally. It currently stands at one.
Pamela Anderson seems to be taking hair and makeup cues from Adele. But her strange coif was soon overshadowed by the bombshell she dropped: She'll be performing on Broadway. Wait. What? Is this real? Broadway? The apocalypse is nigh, people.
Joey Fatone and Kym Johnson celebrated vandalism in their video this week, trashing photos of the judges inside the rehearsal studio. The pair — former partners and clearly very close friends — talked about bringing fun back into the competition. Which makes no sense, because they're, well, kind of boring.
Drew Lachey and partner Anna seem really awkward together. Is that just me? From their interview, it seems like she tortures him in rehearsal, and they clearly have some kind of weird unspoken tension. Is there drama? I hope there's drama.
I kind of feel bad for Apolo Ohno and Shawn Johnson. I get that they're both famous for being Olympic gold medalists, but every single interview compares this show to the Olympics in some way. Can't we find something else to focus on, just once? I'm just glad Apolo's pink cheetah suspenders reappeared. Those things should win the trophy.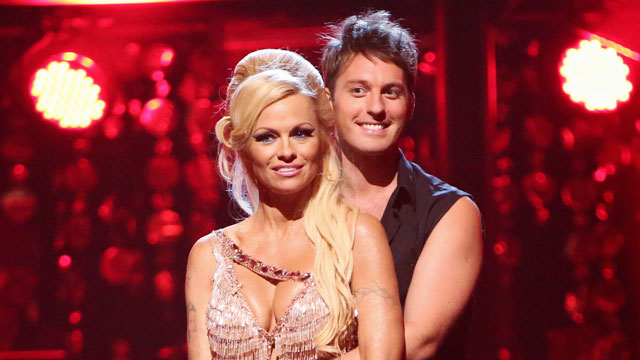 The second visibly uncomfortable moment of the night goes to Helio and partner Chelsie Hightower for their recap video, in which Helio has to give Chelsie a lesson in geography and colonialism. Yes, Chelsie, Brazilian people speak Portuguese because they were once colonized by Portugal. No comment on why Americans speak English. It was cringe-worthy all around.
Ah, yes, the American Dream. Did you know it can be defined as "winning Dancing With The Stars?" At least, that's how Gilles Marini defines it. But what does he know? As we saw in the recap video, he's not a dancer. Does that mean my American dream involves winning a national hula-hoop championship?
Emmitt Smith and Cheryl Burke gave an encore performance of their cha-cha. It's actually amazing what that man can do with his hips. And you have to love him for being honest. Instead of playing along with the scripted questions — Tom asks if he remembers a conversation they had during his original tenure in Season 3 — he quips, "No, that was six years ago." Tell it like it is, Emmitt. Tell it like it is.
Shawn Johnson is the cutest person in the world. It's impossible not to find her endearing — especially when Derek makes Tom sit down so everyone can be at the same eye level. Turns out Shawn is a little fun-sized ball of lethal gymnastic ability. As she tells us, she once literally knocked out Mark Ballas just by spinning around. The reason? "I guess I don't know my own strength!" she says nonchalantly. You see? If you don't think she's cute, Shawn will literally beat you up.
In terms of both cuteness and deadliness, fan favorite Sabrina Bryan is giving Shawn a run for her money. Louis Van Amstel seems to be under the impression that her fans will kill him if he doesn't do well, and Visibly Uncomfortable Moment #3 goes to this pair for his "Once a cheetah, always a cheetah" comment. Okay, it was kind of adorable.
Kirstie Alley is one of the most easily likable cast members this season because, despite the weird comments and occasional spontaneous make-outs, she's just so real. When Maksim told her she's the best partner he's ever had, I actually got a little emotional. But then she started acting creepy again and I forgot all about it.
Special shoutout to Joey Fatone for earning Visibly Uncomfortable Moments numbers 3, 4, and 5 for his, ahem, frank description of his nerves: He doesn't know whether to laugh, cry, pee, poop, or fart. Thanks, Joey. I wanted to think about you farting – how did you know?
I thought about ignoring Pitbull's performance as just more filler, but then he had a GIANT LED ROBOT SPRAYING FOAM. I honestly can't make this up. Pitbull, do you need a girlfriend? Can it be me? Later, Justin Bieber apparently felt the need to compete with Pitbull's futuristic robot – his backup dancers were waving what looked like giant pieces of aluminum foil, which gave the impression that he was in a giant toaster.
In the end, the contest came down to Bristol, Drew, and Pamela in final jeopardy, so no surprises there. Pamela Anderson's eventual elimination after earning the lowest score last night was even less surprising.
So, that's it. Two hours later, hardly any of the drama we were promised in the trailers. Sorry, DWTS. It's hard to build up suspense when it's so obvious what's going to happen. Better luck next week?
[Image Credit: ABC]
More:
Dancing With the Stars: All Stars Recap: Lip Service
Dancing With the Stars: All Stars Premiere: Which Couple Made Your Head Spin?
Dancing Backstage With Louis Van Amstel: Sabrina Bryan Was So Happy She Cried