'Dancing with the Stars' Recap: Season 18 Premiere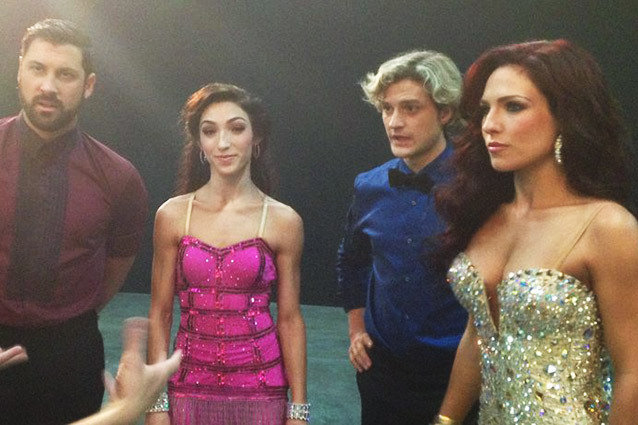 ABC Television Network
Ah, Dancing With The Stars. How we've missed you.
The sparkles, bad puns (Carrie-Ann Inaba: "I've got a big time crush on you"), and plethora of rivalries/budding romances are back.
The season's off to a fortuitous start, with quite the crop of dancers. High points (predictably) included Charlie White and Sharna Burgess, who got unanimous nines from the judges after their graceful and polished modern dance. White's Olympic partner Meryl Davis also did quite well with new partner Maksim Chmerkovsky on a cha-cha (filled with tight spins certainly worthy of an ice dancer), which raked in 24 points. Paralympian snowboarder (and recent bronze medalist) also stunned judges, tying with Meryl and Maks.
Like Meryl and Charlie, the show also pointed to a rivalry between '90s stars Danica McKellar and Candice Cameron Bure. Both faired very well, respectively scoring 24 and 25, with Bure edging McKellar out by a single point after a stellar contemporary dance. (Side note: after she requested a more modest costume, I thought we'd actually get something tasteful, but alas, it was just as tacky, if more covered-up). If I were Davis, I'd be watching my back with these two – I mean, getting out-scored by Charlie is one thing (Canadian rival Scott Moir actually predicted things would tip in "Chuck's" favor out of the two of them, and he's right so far), but by no-dance-training actresses? Better hit the studio hard this week!
On the other side of the spectrum: Billy Dee Williams, alas. Williams danced a delightful yet lackluster Star Wars-themed cha-cha – sometimes, I wish there could be some sort of grading curve, as Williams is pushing 80, and has undergone two hip replacements. He should have at least gotten extra points for donning his old Lando Calrissian cape! Swimmer Diana Nyad (one of the more head-scratching picks for the cast) pulled in second to last. She might be the one going home – although Williams scored lower, I'm sure he has a huge fan base. I could also see former NFL player Sean Avery (who scored 20 points with partner Karina Smirnoff) getting eliminated: he was surprisingly un-graceful for an athlete, and he doesn't exactly have the most endearing personality.
DWTS takes a little healthy speculation  – and what can I say? Looks like DWTS has gotten me hooked once again.
Class Superlatives
Best Dressed: Drew Carey and Cheryl Burke – they're Monopoly-inspired costumes were on point.
Most Hyperactive: Danica McKellar, by a landslide.
Most Awkward: That's a tie between Cody Simpson/Witney Carson (he called her dancing "distracting," as his girlfriend watched from the audience) and James Maslow/Peta Murgatroyd (apparently, they went on a date and he didn't call after). Oh, and runner-up is Meryl Davis/Maksim Chmerkovsky: Meryl/Charlie shippers the world over collectively cringed when she (very) emphatically denied the fact that she and Charlie were dating, as she all but batted her eyes at her new partner. Oh, DWTS – you and your slightly-canned so-called romances!
Best Serial Killer Eyes: Sean Avery. The judges call it "intensity," I call it scary. To-may-to, to-mah-to.
The Dark Horse: Drew Carey. Drew pulled in respectable-yet-middling scores, but I can see him making it far in the competition. Personality gets you far on DWTS (remember Bill Engvall from last season?), and Cheryl's taken a lot of stars to the finals.
And just for fun: