'Dancing With The Stars' Recap: The Finalists are Revealed!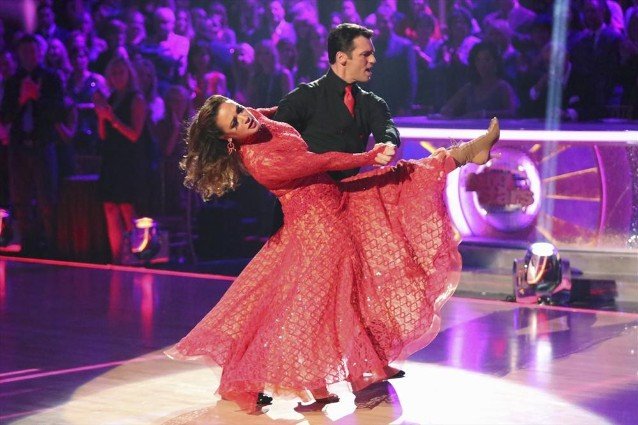 ABC
Former DWTS professional Maksim "Maks" Chmerkovskiy joined us on the other side of the judging table, where he was handily wedged in between Len Goodman and Bruno Tonioli. Bruno's playfully lecherous flirtation was, needless to say, pretty entertaining. Plus, in such close quarters, Bruno's wild gestures almost decapitated him at one point – luckily, Maks used his dancers' swift instincts to dodge. 
The challenge this week was quite interesting as well; the dancers were given the task of performing two distinct dances to different versions (original and acoustic) of the same song – the theme was plugged/unplugged. High points included Amber Riley and Derek Hough's eye-poppingly energetic jazz dance to "Bad Romance," and Jack Osbourne and Cheryl Burke's fiery tango to the Moulin Rouge acoustic version of "Roxanne" (in the face of M.S. flare-ups, no less). Lowpoints: Bill Engvall and Emma Slater's half-baked "Sexy and I Know It" routine (he was pushing through a groin injury, but still), and Corbin Bleu and Karina Smirnoff's overly flame-inspired tango to "Light 'Em Up" (seriously, that was just too much fire. And what was with the hooded cloaks?) 
We also got to hear a bit of each contestant's backstory, which was quite sentimental (schmaltzy even for DWTS, but that's why we love it) – we got to see how The Osbournes messed with Jack's childhood, and how Multiple Sclerosis now plagues his adulthood. Also notable were the struggles Amber faced with casting directors, largely based off of her race and weight. I almost wish we could have had these testimonials earlier in the season, but I guess going through it with all 12 of the original couples would have been overwhelming to say the least.
As for eliminations: the reign of Bill Engvall continues…it's getting tricky, isn't it? He truly is delightful (as the judges continually remind us before docking major points), and he has a compelling relationship with his partner – but how far should that take you on a dancing competition? The fan vote has saved him week after week after week, with technically more proficient dancers going home. With Brant Daugherty and Elizabeth Berkley, it was surprising, but with Leah, it was almost melancholy. The two of them came from the same place – both inexperienced dancers with enough personality to make up for it. But even though she has technically improved much more than he has, she was the one who was booted off the show.
We were sad to see her go. With her copious wisecracking, she brought a sense of levity to the show; watching her and Tony imitate each other's sexy faces at each other was kind of awesome. And while they didn't have the chemistry of say, Brant and Peta, you really got the sense that they were looking out for each other. Tony has oft voiced the opinion that Leah is what DWTS is all about – and in a lot of ways, she was. She came in insecure, with little-to-no dance experience (ahem, Corbin), and has slowly worked her way up to the semi-finals, all the way as an underdog through and through; someone you could root for. She in turn, has said how much his belief in her has meant to her as a competitor – their mutual respect for each other led to some lovely moments throughout the season, and as Corbin, Bill, Jack, and Amber continue on as finalists, she'll definitely be missed.
Stray Observations
* Worst costume of the week: Emma Slater's mesh bodysuit/furry-looking bikini.
* Some of the song covers were just plain awful. "Locked Out of Heaven" in the style of Evanescence? No. Just, no.
* Leah's daughter crying after her elimination was awfully precious.