Who Will Win 'Dancing With the Stars?' We Rate Their Past 'Performances' to Find Out! — VIDEO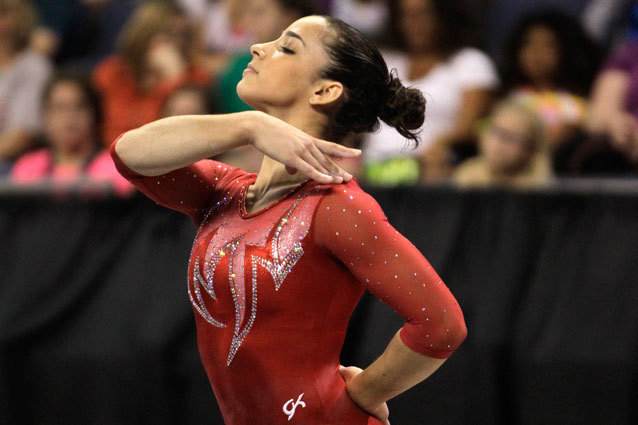 Whenever a new Dancing With the Stars cast is revealed, a common reaction from the people is, "Huh?" How will legendary annoyance Andy Dick compete with an Olympic Gold Medalist gymnast on the dance floor? Can a Real Housewife honestly do something besides drink and talk about people behind their backs? Well, we've got your answer for you.
Our highly trained team of experts researched the interwebs to find some past "performances" (dancing or otherwise) from this year's crop of contestants, and we're using our super official and very mathematical system to accurately calculate their chances.
Lisa Vanderpump: Lisa is a classy lady, and should perform well during some of the more refined dances. However, the video below has us worried — can the demure housewife step up the sexy? Check it out below, but we'll give her a 5/10 due to her unwillingness to embrace the wilder side of dancing.
NEXT: Can country crooner Wynonna Judd actually move?



Wynonna Judd: Oh, Wynonna. The song is called "Dance! Shout!" You've got the shouting part down, but you could at least try to wiggle a bit. 3/10.

NEXT: Aly Raisman — From gold to Mirror Ball?



Aly Raisman: She's 18, she wowed the entire universe with her gold medal-winning floor performance to Hava Nagila, and her parents probably wouldn't mind putting laxatives in Zendaya Coleman's Vitamin Water. It's hers to lose. 9/10.

NEXT: Jacoby Jones proves his versatility.



Jacoby Jones: Can this Super Bowl champ receiver go from professional end zone hoofer to ballroom dance machine? Football stars fare well on this show and Jones is on top of his game, so we think he'll be tough to beat. 8/10.




NEXT: Can Zendaya Coleman reign it in?



Zendaya Coleman: There's no doubt about it, this Disney Channel teen can shake it like a pro. She's got hip-hop down — but we're not so sure about the more classic dances. Can you see her doing a waltz? Either way, check out 8-year-old Zendaya popping and even locking, like a pro. 7/10.

NEXT: Punching and dancing are sort of the same, right?



Victor Ortiz: Erm, yeah. We know nothing about boxing, but it looks like they're sort of dancing around each other before they start going at it. Either way, he's an athlete, and knows how to train slash work hard for something that requires fancy footwork. 6/10.

NEXT: Who is Ingo Rademacher, and why is he on this show?



Ingo Rademacher: Apparently, he's on General Hospital, and is handsome. We like handsome. Also, he's a great Standup Paddle boarder, and that requires strength. 4/10, for natural athleticism.

NEXT: A legendary ice princess returns to the stage.



Dorothy Hamill: Hamill has a Gold Medal just like Raisman, but she earned it in 1976. Still, she knows how to dance on SKATES. That's not easy, kids. Let's give her a 6/10. We like this sort-of-underdog.

NEXT: Will this reality star fare better the second time around?



Kellie Pickler: She may have placed sixth (ouch) on Season 5 of American Idol, but Kellie Pickler has since made a name for herself on the country scene. Why, here she is — "dancing" with Brad Paisley! Really, she could go either way. 4/10.

NEXT: A serious underdog.



DL Hughley: Um… he's funny? 2/10. (NSFW)

NEXT: Andy Dick.